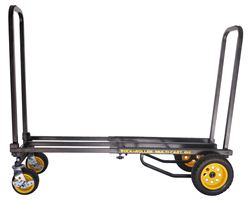 Petaluma, CA (PRWEB) August 18, 2014
The new model R16 from Rock-N-Roller® Multi-Cart® represents the latest in utility cart technology and equipment transportation efficiency. The R16 is designed to easily move up to 600 lbs. of heavy equipment or materials over difficult terrains such as grass, gravel, soft dirt, and sand.
R16 cart frames extends from 34" to up to 52" in length, and includes 6"x3" front R-Trac Wide swivel casters almost 200% wider than other casters. In combination with 10"x3" R-Trac offset rear wheels, the R-16 can traverse virtually any terrain. The extra-heavy duty frame is constructed utilizing durable 1.25" metal tubing for maximum stability and 1" metal tubing is used for the 2 foldable handles. The entire cart weighs in at a convenient 33 lbs.
Like all Rock-N-Roller® Multi-Cart® models, the R16 transforms into 8 different configurations, and replaces the need for multiple carts for different tasks. Rock-n-Roller® Multi-Cart® is one of the top selling utility carts available, and are the perfect solution for musicians, general contractors, tradesmen, deliveries, facility managers, technicians, videographers, event managers, photographers and more.
For more information visit http://www.rocknrollercart.com.