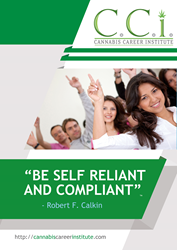 Building your infrastructure to a marijuana business before it becomes legal is important to creating a successful Cannabis Business.
Daytona Beach, Florida (PRWEB) April 11, 2014
Daytona Beach is stepping up the game when it comes to marijuana education for business. Residents that are entrepreneurs are looking for ways to determine how to build the infrastructure to support future potential marijuana and medical marijuana legislation.
Cannabis Career Institute, which has been completely studied by the media, has quietly started providing interested parties on marijuana business development and teaching compliance standards across the nation. The main goals of the company, led by Robert F. Calkin, is to promote compliance, help business entrepreneurs understand the costs involved and provide business planning for the future of Florida when expected marijuana legislation takes place.
While the full scope of the legislative actions are in question at this time, Florida residents have overwhelmingly approved state action in regards to legalizing marijuana for medical reasons and full legalization may also be part of the process.
Many businesses are rushing forward to build their infrastructures ahead of time and detailed planning is of the utmost importance in creating a successful industry business. As jobs will be created, patients will be cared for, many people have questioned governmental influence in this highly competitive market during recent polls, making it one of the most sought after educational arenas.
Cannabis Career Institute communicates with many of the groups that discuss marijuana legalization, including NORML, and continues to provide a non-agenda platform for the students, while helping the cannabis industry further within governmental organizations. President Robert F. Calkin is known for being an advocate over the last three decades, and also a successful Delivery Service owner in California. Calkin is also noted as being a professor of delivery for Oaksterdam University.
Class attendees can expect to learn a wide variety of information on the industry and learn the steps it will take to get started creating their own business plans, getting networked with the right individuals and how to proceed from ground zero.
The all day class has been gone over by media representatives in Florida and legal experts, who have all consistently spoken praises of Cannabis Career Institute as a realistic classroom that provides very valuable information to get people on the path to opening up their own dispensary, delivery service, grow operation or edibles company.
Classes vary, depending on instructor availability, however include members of the Cannabis Industry who are successful and speak on the most compliant way to create a Cannabis Business in the Marijuana industry.