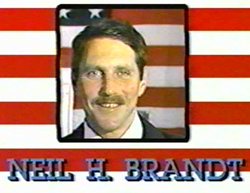 Prayer Is Power!
Novato, CA (PRWEB) April 14, 2014
Neil's greatest recent accomplishment was the creation of the unique prayer, 'Your Perfect Prayer To God' and TheMessiah.Net to teach people how to communicate directly with God. Neil believes that reciting the prayer can ultimately result in everyone showing respect for each other which will bring families and nations together and allow people to receive God's blessing, healings, and miracles. Neil is determined to continue to spread this message as long as his health will allow.
Our recent daily news includes a multitude of disturbing events including: global crime and corruption, political upheaval in Ukraine and Venezuala, the war in Syria, terrorism in the Middle East and throughout the world, earthquakes, severe weather disasters, the mysterious missing Malaysian Airlines Flight 370, and now the first of The Four Blood Moons!
Neil H. Brandt has an answer to help us deal with all this turmoil and tragedy with 'Your Perfect Prayer To God'. The Messiah Network claims the prayer has helped over a million people in less than a year. Neil created this prayer after much deep thought and Divine inspiration (see Sacred Places). Hundreds of positive comments from people all over the world have been posted on the Messiah Network Blog, emails, Twitter, & Facebook regarding The Prayer.
The Internet is alive and growing with this story. The Messiah.Net YouTube channel has over a million views since last year. As a result of Neil's recent special guest appearance on a national radio/TV show, "Your Perfect Prayer To God" was read at the National Congressional Prayer Conference in Washington DC and heard by thousands. The overwhelmingly positive response to "Your Perfect Prayer To God" has encouraged Neil to continue his spiritual mission through scheduled community meet-ups and media appearances.
At this time, however, Neil's work is on hold pending improvement in his health. The Messiah Network is reaching out to all to please pray for Neil.
Some of Neil's accomplishments: As a recognized song writer he wrote the lyrics, "Laughing, Crying, Laughing" for Robert Plant – lead singer of Led Zeppelin. As a recognized UFO lecturer & expert in the Mysteries of the Unknown, he appeared on many radio and TV shows including CNN, Larry King, & Regis Philbin. Neil has published books and articles and has a long history of press appearances (see Neil News Highlights). He has been active in political causes and community outreach throughout his life.
For more information about Neil H. Brandt and the Messiah Network, visit the website or contact:
Lee Coffee
Communications Director