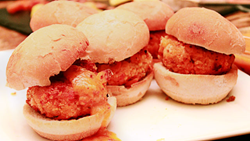 (PRWEB) April 12, 2014
GetMaineLobster.com offers the delicious Maine Lobster Cake Sliders special, combining the succulent flavor of lobster with the ease of an elegant sandwich.
This lively special starts with 12 3-ounce Maine Lobster Cakes, created by GML Chef Margaret Salt McLellan – Maine Lobster Chef of 2008 – whose hand-picked fresh Maine Lobster meat combined with local ingredients create a taste sensation like no other.
Placed inside the homemade slider buns, and topped with GML's signature Sweet Heat Sauce, these sliders are melt-in-your-mouth, flavor-filled, morsels of Maine goodness, perfect for any social event.
The special includes 8 ounces of GML Chef Mac Arrington's Sweet Heat Sauce, which can be served on the side as a dipping sauce or used as a baste for cooking.
Maine Lobster Cakes are immediately flash-frozen and shipped directly, via 2-day air, arriving only on Wednesday, Thursday, Friday, and Saturday.
To prepare, allow everything to thaw in the refrigerator or on the kitchen counter.
Preheat oven to 450 degrees. Place lobster cakes on buttered cookie sheet and place in oven for 25 minutes. Place package of Sweet Heat sauce into warm water to heat up.
Grab a large sauté pan and some butter. On medium heat, generously melt butter in the sauté pan. Once the pan is heated, split the slider rolls and place inside down into sauté pan (it will likely take a couple of rounds to brown all).
Place the warm, luscious lobster cakes on the slider buns, add sauce, salt and freshly ground pepper to taste – and enjoy a singularly delicious treat.
GetMaineLobster.com offers many types of specials, including corporate gifts, weekly specials and specials to support the Paleo diet. Their Dockside Deals offer consumers the amazing opportunity of buying now to take advantage of the sales price, and having the order delivered later, whenever desired, with free shipping!
GetMaineLobster.com also invites customers request custom specials – just call 866.562.4817.
About GetMaineLobster.com:
GetMaineLobster.com, a division of Black Point Seafood and Black Point Gourmet, hand-selects the finest Maine lobster, seafood and beef products for convenient distribution throughout the United States. Their passion is to make fresh, quality seafood readily available to customers across the country, which is why they buy from only the most trusted, well-established suppliers to ensure that they receive the finest products available.
GetMaineLobster.com was selected out of the more than four million small American businesses served by Chase bank to represent its new Platinum Business Checking product for its 2013 national advertising campaign.