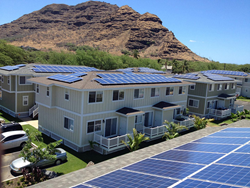 Santa Ana, CA (PRWEB) April 12, 2014
NaturEnergy, Inc., a renewable energy and energy efficiency solutions company announced today that it is finalizing due diligence on an agreement to purchase a soon to be commissioned solar facility, located at Maili Beach Place, solar facility Pacific Power & Electric Company, LLC from KPD12, LLC.
The 354,000-watt (354kW) system is located in the city of Waianae on the island of Oahu, HI. The purchase of this project provides NEI with a kick start with relationships to help achieve the ultimate "Self Sustainability" for the residents of these islands. The energy produced will be used 100% by residents of Maili Beach Place Condo's at a discounted rate for 20 years.
Letters of Intent are also being executed to acquire/construct additional solar projects totaling 90,000,000-watts (90MW) of potential power on the island of Oahu. NEI and its local partners are also working together to develop and build other renewable energy projects on the islands making clean and affordable energy for all.
Asim Khan, CEO, NaturEnergy Inc., stated, "This relationship will help contribute to the nation's renewable energy goals, specifically on the islands where our unique service programs are perfectly suited to create sustainable and long term solutions. We are committed for the long term in supporting our island partners in the development of our collective program initiatives."
About Pacific Power & Electric Company
Pacific Power & Electric Company LLC is an independent power developer providing direct, solar-generated electricity to municipalities, residents and corporations. Pacific Power & Electric Company finances, plans, develops solar power facilities delivering renewable electricity specifically in the State of Hawaii.
About NaturEnergy Inc.
NaturEnergy, Inc. (NEI) is a leading competitive supplier of power, natural gas, renewable energy and energy management products and services for homes, businesses and municipalities across the continental US. and internationally.
We provide integrated energy solutions—from electricity and natural gas procurement and renewable energy supply to demand-side management solutions—that help customers strategically buy, manage and use their energy. NEI has considerable experience in a wide range of residential, commercial and utility-scale projects with all forms of renewable energy development including:

PV Solar
Wind (On/Offshore
CNG/LNG
Hydro
BioMass
Alternate Distillate Fuels
As a fully integrated EPC, NEI offers comprehensive energy efficiency solutions to its clients with facility-wide energy management services that optimize energy performance, enhance operational efficiency, conserve water, reduce greenhouse gas (GHG) emissions, and save money.
For more information about NaturEnergy Inc. please visit http://www.naturenergy.net.