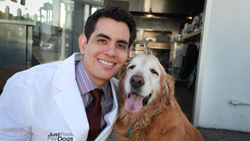 We're destined to change the industry forever.
West Hollywood, California (PRWEB) April 14, 2014
"As the veterinary aspect of our business continues to grow, it is clear that we also need to include an executive veterinarian. Dr. Chavez, a veterinarian of eight years and academic leader, brings an experience that will be critical in furthering our mission to extend the length and quality of life of as many dogs as possible through whole balanced nutrition," said Shawn Buckley, founder and chief executive officer of JustFoodForDogs. "As we continue to open more locations and expand, it becomes even more important that we maintain the quality and consistency to which our customers have become accustomed — inspired by his experience with his own dog Rey, Dr. Chavez has the expertise and passion to lead the growing nutrition team."
Dr. Chavez first joined JustFoodForDogs in November 2011 as a part time consultant. He brought expertise and an academic approach to the testing and formulation of JustFoodForDogs diets. He remains responsible for formulating and testing the company's daily and veterinary diets as well as fulfilling all custom formulation requests from veterinarians and specialists. In his new role as chief medical officer, Dr. Chavez is primarily responsible for strategic planning, outreach, and the medical vision of the company as it grows. Dr. Chavez will also focus on veterinary public relations and media outreach, and continue to build and develop strategic partnerships with key veterinary allies of whole food nutrition and canine wellness.
"I'm humbled to be included on the executive management team. I have been consistently impressed with this company and its commitment to advance veterinary knowledge. It's an honor to be part of a team that is changing the way we feed our pets and including veterinarians in the transformation," said Dr. Chavez. "For over 50 years, the pet food industry has relied on processed commercial diets to address canine nutrition. We've learned so much along the way thanks to these diets. However, we believe the time has come for the next level in wellness.
Through our pioneering research and commitment to evidence-based nutrition, we're destined to change the industry forever." Prior to joining JustFoodForDogs, Dr. Chavez was a full time, tenure-track faculty and director of the Animal Health Science program at California State Polytechnic University, Pomona, where he remains an adjunct faculty. There he led the state's most prestigious program in veterinary technology, and the only AVMA accredited four – year Baccalaureate program for RVTs on the West Coast. Dr. Chavez was named teacher of the year for the College of Agriculture in 2012, and is still very highly regarded by his loyal students. Prior to his time at the university, Dr. Chavez was Chief of Staff for a Banfield Pet Hospital in Huntington Beach, CA, and he remains an active part-time practicing veterinarian. "I couldn't imagine giving up seeing patients completely, and I don't have to," says Chavez, "I love my ongoing part-time work as a practicing veterinarian and JustFoodForDogs has been very supporting of it."
In addition, Dr. Chavez serves as a committee member for the California State Veterinary Board's Multidisciplinary Committee. To date, Dr. Chavez has lectured and presented hundreds of college level courses and continuing-education programs on veterinary nutrition and other subjects. He has been an active researcher in the first ever university studies conducted on whole food canine maintenance diets. The research has been submitted for publication.
JustFoodForDogs™
501 Superior Avenue Newport Beach, CA 92663
Tel: 866.726.9509
http://www.justfoodfordogs.com
About JustFoodForDogs: We started JustFoodForDogs with one simple, primary objective – to increase the quality and length of life for as many dogs as possible through the food they eat. All of our food is made from ingredients certified by the USDA for human consumption and we add all of the necessary nutrients to make our meals complete and balanced. Our recipes are developed by our own team which includes a veterinarian, nutritionist, pet chef and a cadre of dogs and dog lovers. To learn more about us please visit us at justfoodfordogs.com or for daily updates visit us on Facebook.