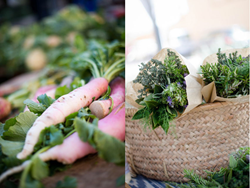 (PRWEB UK) 14 April 2014
Hunter Traveller, a leader in visual destination guides, has compiled a list of seven recommended market locations for people on holiday in Mallorca.
Visitors will find a market scene that is abundant, both in variety and product. While some markets are more tailored to tourists and some to locals, every Mallorcan farmer's market offers a fun and tasty glimpse of the skills and tradition passed from one generation to the next, all displayed beautifully for passersby.
After many travels and much research, Hunter Traveller would like to share their picks for the top seven markets—one for every day of the week—to visit in Mallorca.
Mercat Olivar – Monday to Saturday
Situated in the center of Palma, Mercat Olivar is the ultimate alternative to the supermarket for those staying in the capital. The market promotes an organic feel with baskets brimming with juicy fruits, vegetables and the most desirable meats and artisan cheeses.
Alcudia Market – Tuesday and Sunday
The Alcudia Market has a more basic set up and is lovely to attend just for the sake of attending. With great pastry stalls and breakfast bites this market is the perfect place to nip to and fill your basket before heading down to the Alcudia beach with family. The market offers fruits and vegetables, clothing, jewelry, pastries and many more desirable purchases shoppers will be happy to walk away with. We recommend that families take a trip to Alcudia as the market is tourist friendly and Alcudia Bay is known for its safe shallow waters, perfect for young ones to splash around in while you enjoy a typically Spanish ensaïmada in the sun.
Sineu Market – Wednesday
Possibly the most dynamic market in Mallorca this market, which is situated in the town of Sineu, is the only market in Mallorca to sell live produce. Walking into the market you may be looking for a sweet little donkey souvenir and instead walk away with a donkey itself, or perhaps a chicken or two rather than your standard 6-pack of eggs. While shopping for your fruit and veg the town graces you with plenty of street musicians, which gives you an extra little taste of the culture and music of the town.
Inca Market – Thursday
Inca, also known as the "Leather City", hosts the renowned Inca Market every Thursday and supplies the market dwellers with superb leather products from purses to pants and bags to belts. Along with its leather fame, the market also supplies fresh fruits, vegetables and every other type of Spanish food thinkable.
Of particular demand among tourists, an artisan biscuit stall sets out parmesan flavored bites alongside its neighboring stall of tasty local cheeses and breakfast wine. There is a D'Mercat Bistro Bar that will cook up any produce you have bought at market turning it into a scrumptious meal to enjoy there and then. No need to take it back to the villa and fret about what spices to use and what in the world you will do with seven different types of vegetable, they will cook it all up for you while you wait, done and dusted.
Llotja del Peix Market – Friday
As every self-respecting island would have, Llotja del Peix is one of Mallorca's top fish markets. Fresh catches fill the dock of Moll de Pescadors. And you can never go wrong by popping in to find something super fresh and tasty to fill your dinner dish that evening.
Arta Market – Saturday
The Arta market is not one of the biggest or most popular markets in Mallorca, but it is respected and loved for its calm and friendly atmosphere. Like most, it sells all the local fruits and vegetables you would expect, along with meats, cheeses, jewelry and clothing. It is also a really good choice if you are looking for some time to relax and browse through the produce at your own pace.
Santa Maria Market – Sunday
Set in the inland town of Santa Maria, with beautiful views of the Serra de Tramuntana Mountains, this Sunday morning market is unlike any other as it caters not to tourists, but rather the locals. Stalls filled with potted herb plants and organic veg rather than rings and trinkets. The town is only 10 minutes from the city of Palma and easily accessible by train, bus and car. The market is situated in the center of the town in the square, surrounded by small bars and cafes, allowing you to sit and watch the market life go by while listening to the banter of the locals as they decide which cheese to choose or which wine they should buy from the Jaume de Puntiro wine cellar just around the corner from the market itself.
So there it is—seven days and seven markets. We don't expect you to visit them all, but highly recommend visiting at least one to get a good feeling for Mallorca and all of its flavors.
Hunter Traveller strays from the beaten track and is deliberately aimed at the discerning, the curious and the adventurous. Marks of quality are more than just luxury, location, price and aesthetics. The treats, the indulgences, the luxuries as well as the more simple things, we love them all in equal measure.
For more information, visit: http://www.huntertraveller.com.