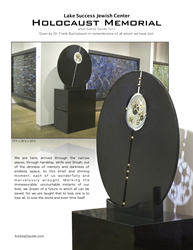 "Marking the immeasurable, uncountable instants of our lives, we dream of a future in which all can be saved, while we mourn for all who are lost forever in time and fading memory." Dr. Jonathan Black
Lake Success, NY (PRWEB) April 15, 2014
On Sunday April 27th, the eve of Holocaust Remembrance Day (Yom Hashoah), the Lake Success Jewish Center, led by Rabbi Michael Klayman, will conduct a service of dedication and memory. The Center welcomes Dr. Frank Buchsbaum, one of the few remaining survivors of the Holocaust, who has given Ms. Davide's work, Forces Elemental to the Lake Success Jewish Community, in remembrance of all whom were lost in the barbarous years of the Holocaust and of those who loved them and are yet haunted by memory. The dedication will take place at 10am at the Lake Success Jewish Center 354 Lakeville Road, Great Neck 11020.
Dr. Buchsbaum has long felt the need to commemorate those lost in the Holocaust. He turned to Long Island artist and sculptor, Andrea Davide, to provide a memorial and enduring aid to memory. Dr. Buchsbaum selected Forces Elemental, a major new work by Ms. Davide, as reflecting major aspects of his experience and of the catastrophe that struck European Jews. In this work, her signature RoundTimer motif, finely honed mechanism with obscure time-related function, springs gleaming and pristine from amidst obdurate black stone. Positioned by precisely formed spacers, supporting the surrounding symmetry, divided off vertical, the contrast between mechanism and mass is startling. Ms. Davide works and lives with her family in Merrick, New York
Dr. Jonathan Black, longtime client and colleague of the artist, comments: "On viewing Forces Elemental, we are reminded that we are here briefly, having arrived through narrow places, through hardship, strife and catastrophe, out of the dimness of memory and darkness of endless space, to this brief and shining moment; each of us wonderfully and marvelously wrought. Marking the immeasurable, uncountable instants of our lives, we dream of a future in which all can be saved, while we mourn for all who are lost forever in time and fading memory."
The entire congregation of the Lake Success Jewish Center, children of the Hebrew School as well as many local dignitaries and politicians, have been invited to be a part of the unveiling ceremony as Forces Elemental is dedicated in a service of commemoration.
About Andrea Davide
Andrea Davide was born and raised on Long Island, where she still lives and works. She has long had a fascination with time in all of its varied aspects and impacts on our lives. Beginning her professional career as a medical illustrator, she quickly broadened her view to painting, glass working, aviation archeology, and now metal forming. An honorary colonel in the USAF, Davide excavated the Philippine crash site of legendary WWII ace, Tommy McGuire for whom Joint Base McGuire/Dix/Lakehurst is named, and now uses parts of his plane in sculptures while her paintings depicting his fatal mission hang in the Pentagon. The central thread running through all her work is a unified concern for artifact, memory and the flow of time: out of the future, through the moment and into memory. http://www.andreadavide.com Note to Editor: Additional information and high resolution images can be accessed at http://www.andreadavide.com/press.php Or emailing andrea.davide.art(at)gmail(dot)com.
About Dr. Frank Buchsbaum
Dr. Frank Buchsbaum was born in the former Yugoslavia in 1923. He was interred in forced labor camps during World War II where he contracted typhoid fever. Confined to a medical facility, he was able to escape once his strength allowed him to stand. He was able to remain one step ahead of the Nazis by using falsified documents and spending his days hiding in one apartment and his nights in a second, creating the illusion when he left each that he was simply heading off to work. At war's end he moved to Israel and, working in military armament development, he worked with teams developing the Uzi submachine gun. This led to a scholarship at Columbia University in New York where he earned a Doctorate of Science degree. In the early 1960's Dr. Buchsbaum founded Stock Drive Products, now SDP/SI; a leading manufacturer and supplier of mechanical drive components, from where he retired last year.