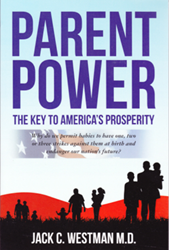 The quality of our young people is more important than the quantity.
Madison, Wisconsin (PRWEB) April 22, 2014
Jonathan V. Last, author of "What to Expect When No One's Expecting: America's Coming Demographic Disaster" implores us to consider that without reversing declining fertility, the United States can look forward to a demographic disaster. Dr. Jack Westman, author of "Parent Power: The Key to America's Prosperity" points out that simply increasing the birth rate ignores the more important consideration of raising the next generation of whatever size to become productive citizens.
In Johnathan Last's vision Detroits will be scattered throughout the country. Demand for government services for the aging population will increase as the tax base shrinks. Demand for housing, farm and manufactured products, education, and professional services other than geriatric medicine and elder care will shrink. Entrepreneurial activity and innovation will dry up, for they are activities of the young. He concludes that people are having too few babies.
Last highlights the cost of raising a child: "It is commonly said that buying a house is the biggest purchase most Americans will ever make. Well, having a baby is like buying six houses, all at once. Except you can't sell your children, they never appreciate in value, and there's a good chance that, somewhere around age 16, they'll announce: 'I hate you. The message here is that the medicine of having a family is bitter, but you're better off taking it than not."
In contrast, in an era when schools and economic disadvantage are seen as the main reasons why one-third of the children in the United States are not thriving, Dr. Jack Westman calls attention to the power parents have to both prevent and to contribute to our social problems. "Parent Power: The Key to America's Prosperity" shows how society tries to intervene with parents who are unwilling or unable to raise their children through fragmented and discontinuous social services. These unconnected, crisis-recoil responses to problems cannot apply what is known to effectively help struggling families. If this fragmented approach was applied to health care, only a fraction of our population would be immunized and only a fraction of the individuals who became infected would be treated. The result would be pandemics of diseases as is now seen with our educational failures, endemic crime and welfare dependency.
The causes of inter-generational poverty, crime, and welfare dependency can no longer be ignored. United Nations statistician Howard Friedman has carefully documented the declining international status of the United States in his book "The Measure of a Nation: How to Regain America's Competitive Edge and Boost Our Global Standing". He bases this on the following facts: 1) Americans have the lowest life expectancy among all competitor nations; 2) Americans are at least two times more likely to be murdered and four times more likely to be incarcerated than in any other competitor country; and 3) the United States shows the greatest disparity between rich and poor among all competitor nations.
While the current focus is on unemployment, the soaring national debt, and terrorism, the ailments that infect society are being ignored. Dr. Westman points out that especially dangerous is the decline in thriving families that really does threaten the prosperity and security of our nation. This decline in family well-being deprives the United States of parents who can effectively raise its greatest natural resource─children and youth. More important that the quantity of young people is their quality as citizens who can contribute to the well-being of America.