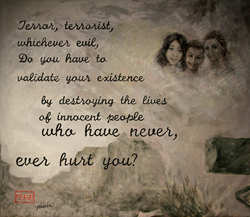 Beauty is now needed more than ever to restore the balance.
Boston, MA (PRWEB) April 14, 2014
On the cusp of the one-year anniversary of the tragedy befalling last year's Boston Marathon bombings, there looms a pressing question: How do individuals, cities, nations, heal from such violent events? Many first-timers will run the Boston Marathon to show support for the Boston community, many will return to run it again, as they have many times before. People from all over the world will attend the event as a sign of allegiance and solidarity to the "Boston Strong" attitude of perseverance.
The events this time last year shook all, not only Boston locals, but the national and global network of humanity. While reflecting this year, with its first vestiges of spring just now starting to unfurl in New England, a meditation on peace and the triumph of the human spirit with a dose of solemn remembrance is necessary. Beauty is now needed more than ever to restore the balance. A local Boston-based painter addresses the issue with a potent message in her work.
Dr. Youxin Yang, PhD. is an accomplished Chinese-American artist living and working in the Boston area. Her current series of paintings are based around the concept of peace and promote a dialog with the public to engage in social issues in a beautiful and thoughtful way. This painting is different than her usual work, it stands out from anything she has created in the past. It is titled, 'Peace VI – Boston Marathon' and is a large format canvas painted with oil pastel, acrylic and mixed media in 2013. It won last year's American Art Award's 'Stoney Award Prize' and will be publicly displayed in several upcoming exhibitions in the United States.
The gestalt of the painting presents a mood of blackness, chaos and sadness. Youxin's usual palette of bright pastels is mired in smokey clouds of terror in which three portraits are grouped in the upper right corner. These are the victims who lost their lives in the bombings last year: Lu Lingzi, Martin William Richard, and Krystle Marie Campbell. In a recent interview, Youxin Yang said that she originally intended to paint separate portraits of the victims, but as she began, she realized that in her ode to this tragedy, in her canvas of grief, she wanted Lu, Martin and Krystle close together, so they would never get lonely in this personal world of remembrance. Their faces are serene and smiling, beaming out onto the chaotic smoke around them. Large black letters address the viewer with a question some may find challenging to be confronted with. Youxin's message reads: "Terror, terrorist, whichever evil, do you have to validate your existence by destroying the lives of innocent people who have never, ever hurt you?" The portraits are a remembrance of three beautiful lights extinguished from the world last year, but the words are an imploring question to the perpetrator wrought out of pure grief. The message runs much deeper still, it could be asked of anyone, affiliated with a terrorist organization or not, who has ever harmed innocent life. Ms. Yang has also said that creating this painting was not the joyful experience she usually has creating art.
Youxin Yang is currently at work promoting peace by composing music, lyrics and creating short musical films in a new production, titled, 'Peace – Melody Under Brushes' which are centered upon raising similar questions of society but this time the lyrics are aimed at children who may contemplate future school violence.
Ms. Yang's upcoming exhibitions will be held this year in September at The Arts Club of Washington, in Washington D.C., in October at the Watertown Free Public Library in Watertown, Massachusetts, and next year at Lowell's Whistler House Museum of Art, in an exhibit titled 'Pursuing Justice through Art' in April-May 2015. More paintings from the Peace Series can be seen at http://www.zeitgeistgallery.net.
Zhana Levitsky
The Zeitgeist Gallery