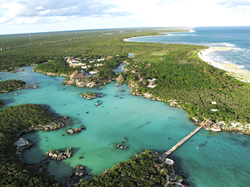 EarthCheck credits Xel-Há Cancun for having established international guidelines for environmental management programs in theme parks.
Cancun, Quintana Roo, Mexico. (PRWEB) April 14, 2014
On the occasion of World Water Day, Xel-Há Eco Park received an EarthCheck Gold Certification, making it the only tourism industry park in the world to receive this certification. The certification was given by the EarthCheck representative in Mexico and Latin America, Erika Lobos. This acknowledgement was accepted by Xel-Há Executive Director, Elizabeth Lugo Monjarrás, and the Vice president of Experiencias Xcaret, Carlos Constandse Madrazo.
EarthCheck Gold Certification highlights Xel-Há's good practices in the management of this 208-acre natural reserve for sustainable tourist recreation that do not jeopardize its stability at a medium and long term. It also emphasizes how much it has evolved in its performance since 2009, the year it obtained its first EarthCheck certification, improving its own indicators an average of 30%. Being EarthCheck certified is the most esteemed sustainability recognition in the world.
Since 1994, Xel-Há Park has operated with sustainability criteria, a suitable environmental management system and an outstanding corporate social responsibility program. EarthCheck credits Xel-Há Cancun for having established international guidelines for environmental management programs in theme parks.
In the matter of drinking water, the Cancun water park has been acknowledged for having one of the best practices due to its integral management system for this vital liquid. In its facilities, priority is given to the low-flow WCs, the use of recycled water for watering green areas and limited flow accessories.
As to solid waste management, Xel-Há Mexico stands out for the best practices in this field, evaluated by EartCheck: More than 80 percent of the solid waste produced by its day-to-day operations is recycled and a mere 20% is destined to sanitary confinement.
Due to its Program for Rescue, Reproduction and Reforestation of Native Plants created in the year 2000, Xel-Há Park preserves 75% of its habitat, while the world average is a mere 20% in enterprises dedicated to tourism. It has also shown outstanding achievements in energy consumption and carbon dioxide emissions into the atmosphere.
The Ciudad Chemuyil project is among the most far reaching best practices. This program has had a positive impact in the population of this community through four main focus points: Health, Education, Urban Image and Green Community.
Xel-Há Park has also been acknowledged in communication, education and creating awareness and responsibility in the public through its investments in sustainability programs, purchase of local products and training of personnel in the care and preservation of the environment.
It must be pointed out that besides fulfilling indicators established by EarthCheck standards, Xel-Há also plays an outstanding role in the preservation of endangered species like the sea turtle and the queen conch as well as in the Environmental Education Program of the State of Quintana Roo.
As a basis for its certifications, EarthCheck evaluates 10 indicators through periodic audits: Greenhouse Gas Emissions (GHG); Energy Efficiency; Potable Water; Ecosystem Preservation; Social and Cultural Issues; Administrative Planning of Soil Use; Protection of Air Quality and Noise Control; Residual Water Management; Solid Waste Management; Storage of Substances that are harmful to the environment.
About EarthCheck:
EarthCheck is the most widely known sustainability seal of approval. It is an international certification program for the tourist industry that promotes better social and environmental practices.
About Xel-Há:
Xel-Há is a natural wonder in the Caribbean coast with a magnificent inlet to practice snorkel and discover marine life. The Cancun water park offers extraordinary tours to discover the secrets of the jungle and the mangrove and world class restaurants for a great gastronomical experience.