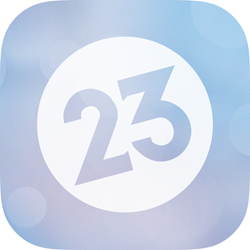 "Our mission with Lotto 23 is to create an engaging and playful experience to enjoy the lottery in a whole new way. Give people the chance to change their lives in a big way. All while doing so for free," said the founders of Dream Big Studios.
(PRWEB) April 21, 2014
Dream Big Studios proudly announces the release of Lotto 23, an innovative app that combines a beautiful and simple experience with the thrill and dreams so many lottery players love. Lotto 23 features a drawing every night at 9PM EST, and a free entry for all players every day. The app allows people to play 6 lucky numbers for a chance to win the jackpot. When the results are in, the players are notified and can check to see if they were a big winner.
While regular, state-run, lotteries charge a couple bucks to enter, Lotto 23 prides itself on being able to provide free entries to all players, and boasts a starting jackpot of $25,000! In just a few moments, and from the convenience of their phones, people can now enter into the lottery in a whole new way. When the power of the smartphone and crowd are pulled together, Dream Big Studios believes there is room to change a lot of lives.
Lotto 23 is designed to give people an enjoyable outlet for playing the lottery without risking their money, and provides the hopeful and dreamlike feeling that can get us to enjoy our days. Because of the accessible and globally participating nature of Lotto 23, there can be more entries than ever, and as more people join in, it will be possible to grow the lottery upwards of a million dollars.
"Lotto 23 combines wonderful graphics, a ton of interactivity and delivers exciting moments everyday for the players. We're really happy with the way it turned out."