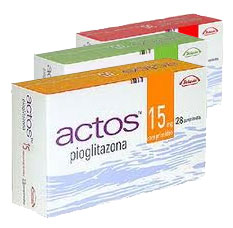 At least six meta-analyses have now found a connection between Actos use and bladder cancer in diabetics.
Raleigh, NC (PRWEB) April 14, 2014
Earlier this week, a jury awarded $9 billion in punitive damages to a man who says he got bladder cancer from taking the diabetes drug Actos. (Terrence Allen, et al. v. Takeda Pharmaceuticals North America, Inc., et al, No. 6:12-cv-00064)
According to cancer information site Cancer Monthly, evidence suggests that the science behind the link is sound and bladder cancer patients who have taken Actos are being advised to seek professional legal advice as soon as possible. Click here for more information.
Actos is used to help diabetics control their blood sugar. Although preclinical studies conducted by Actos manufacturer Takeda Pharmaceuticals suggested that Actos might raise the risk for bladder tumors (Sugiyama, Y, "Preclinical studies of pioglitazone (AD-4833)", November 1997, Nihon Rinsho, Japanese Journal of Clinical Medicine), the FDA decided that there was not enough evidence of a causal link to prevent them from approving the drug in 1999.
But five years into a 10-year study of Actos that started in 2002 sponsored by Takeda, it was clear that the risk of bladder cancer was greater than the company originally indicated (Lewis, JD, "Risk of bladder cancer among diabetic patients treated with pioglitazone: interim report of a longitudinal cohort study", April, 2011, Diabetes Care, http://care.diabetesjournals.org/content/34/4/916.full) and the FDA was prompted to add bladder cancer risk to the Actos warning label. (FDA Drug Safety Communication: Update to ongoing safety review of Actos and increased risk of bladder cancer, June 2011, FDA website, http://www.fda.gov/drugs/drugsafety/ucm259150.htm)
A recent review of Actos studies published in the Journal of Environmental Sciences and Health indicates that at least six meta-analyses have now found a connection between Actos use and bladder cancer in diabetics, "especially at a higher cumulative dose or after prolonged exposure." (Tseng, CH, "A review of thiazolidinediones and bladder cancer in human studies", January 2014, Journal of Environmental Sciences and Health, http://www.ncbi.nlm.nih.gov/pubmed/24598039)
Although the FDA has not yet moved to recall Actos, bladder cancer patients who believe that the drug may have caused their disease may still be able to seek compensation. If you took Actos and were diagnosed with bladder cancer, you should find out if you have a claim. Click here for more information.
For over ten years, Cancer Monthly has been the only centralized source of cancer treatment results. Patients can see the actual survival rate, quality-of-life indicators, and other key data for approximately 1,500 different cancer treatments. Cancer Monthly provides timely and ground-breaking news on the causes, diagnoses and treatments of the most common cancers including Bladder, Brain, Breast, Colon, Kidney (Renal), Liver, Lung (NSCLC), Ovarian, Prostate and Rectal Cancers, Melanoma, Mesothelioma, and Non-Hodgkin's Lymphoma. Written for patients and their loved ones, Cancer Monthly helps families make more informed treatment decisions.