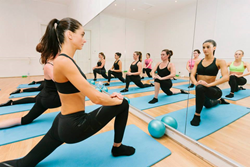 Our methods involve using concepts from traditional Pilates, as well the latest scientific research.
(PRWEB) April 14, 2014
Clinical Pilates is actually a series of mat-based rehabilitation exercises adopted by physiotherapists and which focus on helping those with muscle strains, neck and back pain and other forms of discomfort relating to the body's muscular system.
"We have had numerous clients recommended to us by chiropractors, osteopaths, physiotherapists, and GPs," says Gollan in her article Clinical Pilates And Its Differences For Treating Muscle Pain (And Other Issues).
"That's because our methods involve using concepts from traditional Pilates, as well the latest scientific research to help the clients."
Other benefits from the discipline of Clinical Pilates include increased muscle strength and flexibility together with improved posture.
Difference between Clinical and Standard Pilates
Clinical Pilates involves modified exercises which have been specifically designed for particular patient's injuries in mind – ensuring no condition is made worse.
How Clinical Pilates helps with injuries
Clinical Pilates is particularly helpful for soft tissue injuries. It can be used for back and neck injuries, muscle strains, sports injuries, knee injuries, and more. This is because Clinical Pilates is an extremely gentle therapy and has no impact on the joints
whatsoever (the latter is extremely important when it comes to recovery from injury).
It's natural for the body to try to protect and shelter an injury. This, in turn, can cause the muscles in the area of the injury to degrade and result in increased pain. Clinical Pilates increases blood flow to the injury site, preventing this muscle degeneration and, in doing so, provide pain relief.
Shoulder Injuries and Rehabilitation
Clinical Pilates is particularly help for:

Rotator cuff tears
Frozen shoulders
General shoulder pain and tightness
Rehabilitation when it comes to shoulder surgery
Back Pain and Injuries
Clinical Pilates courses help to retrain the deep abdominal and spinal muscles, helping to provide long term back pain relief. It can also help prevent recurring back injuries such as:
Muscle pain in back
General aches & pains
Disc bulge / Herniated disc
Facet joint injuries
Compressed discs
Slipped disc / Spondylolisthesis
Muscle strain or sprain
Repetitive stress injuries
Knee Injuries
Pilates is an ideal rehabilitation program for knee injuries, helping to strengthen the knee joint and the surrounding muscles. This is particularly important for those who are active in sports. Tight bands that run down the side of the leg commonly cause knee painful and clicking knees and a Pilates stretching exercise routine can help to address this issue. In fact, Clinical Pilates is ideal for:
Rehab after surgery
Clicking knees
Knee pain
Dislocation of the knee
Weak knee joints
Torn cartilage
Torn / strained ligaments
Overall Benefits of Clinical Pilates
Recent research supports retraining the deep stabilising muscles in patients with injuries, especially for those in the lower back area. Clinical Pilates provides a strong focus on retraining stabilising muscles which, in turn, increases core stability and leads to an improvement in posture, strength and flexibility. This helps to aid healing and lowers the chance of reoccurring injury. Some of the benefits of Clinical Pilates rehabilitation includes:
Restoring Normal Movement Patterns
Aiding Rehabilitation
Improving Posture
Addressing Poor Mechanics That Underlie Injuries
Addressing Muscle Pain and Weakness
Identifying the Cause of Injury
Improving Posture
Increasing Core Stability
Improving Control Over Breathing
Reducing Chance of Future Injuries
Increasing Flexibility
Firming Stomach Muscles
Increasing Joint Mobility
Providing Muscle Pain Relief
How to Get Started with Clinical Pilates
Find a studio which offers small group sizes to ensure individualised attention. It should also be prepared to provide an individual musculoskeletal assessment prior to a class commencing. This ensure individualised goals and injuries are discussed.
Clinical Pilates Exercises
Injuries are painful and frustrating. Even after the injury itself has healed, it can still cause reoccurring muscle pain and weakness. Clinical Pilates courses are designed to provide rehabilitation for injuries, and provide long term, and effective, pain relief.
They may also help address the underlying cause of injury, reducing the chance of it occurring and resulting in a speedy return to normal functioning.
To find out more about Clinical Pilates and it's benefits see Pilates studios in Adelaide. Classes can be booked via the schedules page while updates are available on Inner Strength Pilates' Facebook page and Google Plus accounts.