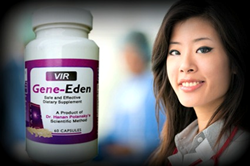 Because genital herpes symptoms, such as back pain, groin pain, and leg pain can easily be confused with other conditions and diseases, we recommend that individuals get tested for herpes. - Mike Evans, polyDNA
Rochester, NY (PRWEB) April 18, 2014
polyDNA's latest survey found that many respondents did not know that a genital herpes outbreak can cause intense back, groin, and leg pain. This is especially true concerning the very first outbreak. During that time, a person may experience "flu-like symptoms -such as feeling unwell, headaches and pains in the back and legs, with or without enlarged glands in the groin, and… some people also have considerable pain and swelling in the genital area, and may have additional pain and difficulty passing urine." (See Better Health Channel, Last updated April 11, 2014) (1). polyDNA recommends that individuals who have symptoms of a genital herpes outbreak talk to their doctors about Gene-Eden-VIR. This natural antiviral was shown to reduce symptoms associated with HSV-2 in a post-marketing clinical study that followed FDA guidelines.
In addition to back pain, groin pain, and leg pains, genital herpes outbreaks can cause other types of discomfort. For example, one medical case study reported that a "27-year-old woman presented to a gynaecological ward with one week of unexplained abdominal pain. After some days of observation and tests… biopsies showed HSV type 2." (See the Danish journal Ugeskrift for Laeger, from May 6, 2013) (2).
More common symptoms include "tingling, burning, itching, and redness at the site where an outbreak is about to occur. Painful, itchy blisters on the penis, on the vulva, or inside the vagina. Blisters may also appear on the anus, buttocks, thighs, or scrotum, either alone or in clusters. They may be barely noticeable or as large as a coin." (See WebMD, Last updated on December 20, 2012 ) (3). Individuals may also experience "Painful, oozing sores caused by blisters that break open…swollen and tender lymph nodes… painful urination… (and) … abnormal discharge from the vagina or penis (3)."
"Because genital herpes symptoms, such as back pain, groin pain, and leg pain can easily be confused with other conditions and diseases, we recommend that individuals get tested for herpes. If positive, that person should talk to the doctor about Gene-Eden-VIR." - Mike Evans, polyDNA
Researchers showed that Gene-Eden-VIR is safe and effective in a post marketing clinical study published on August 12, 2013 in the medical journal Pharmacology & Pharmacy in a special edition on Advances in Antiviral Drugs (4). Additionally, up to 70% of those studied reported a decrease in genital herpes symptoms, and users experienced an increase in overall health (4).
Each ingredient of Gene-Eden-VIR was chosen through a scientific approach. Scientists scanned thousands of scientific and medical papers published in various medical and scientific journals around the world to identify the safest, most effective natural ingredients that target the latent herpes virus. (4)
Additionally, the herpes virus can cause individuals to feel fatigued. A second clinical study showed that Gene-Eden-VIR decreased physical and mental fatigue. (See Pharmacology & Pharmacy, from March, 2014) (5).
To learn more about Gene-Eden-VIR, visit http://www.gene-eden-vir.com.
All orders of Gene-Eden-VIR are completely confidential, and no information is shared or sold to any third party. Privacy is assured.
Reference:
(1) Better Health Channel - Genital Herpes.
http://www.betterhealth.vic.gov.au/bhcv2/bhcarticles.nsf/pages/Genital_herpes?open
(2) Herpes simplex can cause acute abdomen. Published on May 6, 2013.
http://www.ncbi.nlm.nih.gov/pubmed/23663373
(3) WebMD - Genital Herpes Health Center - Symptoms. Last updated on December 20, 2012.
http://www.webmd.com/genital-herpes/tc/genital-herpes-symptoms
(4) Gene-Eden-VIR Is Antiviral: Results of a Post Marketing Clinical Study. Published in September 2013.http://www.scirp.org/journal/PaperInformation.aspx?PaperID=36101#.U0PKT6iSz90
(5) Gene-Eden-VIR Decreased Physical and Mental Fatigue in a Post Marketing Clinical Study That Followed FDA Guidelines; Results Support Microcompetition Theory
Published in March, 2014.
http://www.scirp.org/journal/PaperInformation.aspx?PaperID=44234#.U0pkI1WSz90
polyDNA is a biotechnology company that develops dietary supplements using the unique scientific method developed by Dr. Hanan Polansky, which is based on Computer Intuition.
In addition to his unique scientific method, Dr. Polansky published the highly acclaimed scientific discovery, called Microcompetition with Foreign DNA. The discovery explains how foreign DNA fragments, and specifically, DNA of latent viruses, cause most major diseases.
polyDNA developed Gene-Eden-VIR, an antiviral natural remedy that helps the immune system kill latent viruses.