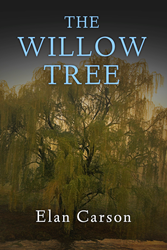 Los Angeles, CA (PRWEB) April 15, 2014
April is National Sexual Assault Awareness Month and the author of "The Willow Tree," Elan Carson, is giving her book away for free to readers on Amazon's Kindle. "The Willow Tree" is a dark tale of a young girl, Emma. Growing up in Detroit, Emma is Black, book-smart and painfully awkward; as she is forced to confront the unrelenting sexual abuse of her stepfather, her mother slips into depression.
Reviews of "The Willow Tree" have been overwhelmingly positive, and readers have been calling it "thought provoking" and "wonderfully written."
That Elan Carson's gripping novel has won the hearts of so many readers comes as no surprise. The author began her writing career at six years of age. Disheartened by the accusation of plagiarism in her first writing competition–because her writing was deemed far too good to have been written by a girl her age–she became a dedicated and passionate author.
Available in paperback and digital download, Elan is giving away free downloads of the Kindle version during April 15-19th to raise additional awareness on issues of sexual assault, abuse, and mental health. Kindle owners or anyone with a device such as an iPad, smart phone or laptop running the popular Kindle app can download their copy immediately at http://goo.gl/qRK1h9.
You can find out more about the author and her new book on her website, http://www.thewillowtreebyelan.com where fans may also read the first chapter free.