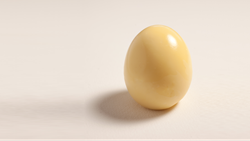 Tel Aviv, Israel (PRWEB) April 14, 2014
Egglogix announces the introduction of Eggxer®, the world's first appliance for scrambling any egg inside its shell to create a single texture and color from the white and the yolk – a MixedEggTM. Eggs are considered natural super food especially for kids. 99% of an egg's nutrients reside in the yolk. Almost one-third of the kids refuse to eat egg yolks. The product was originally designed to enable kids who refuse to eat the hard-boiled egg yolk to consume the entire egg. MixedEggs have a taste and consistency favored by all kids and adults alike. Tasted by professional chefs, the hard-boiled MixedEgg generates a new food with infinite culinary options. Eggxer is now available on Indiegogo – https://www.indiegogo.com/projects/eggxer-scrambling-eggs-inside-their-shells/x/6157057.
In addition to enticing children to eat protein and vitamin-rich eggs, Eggxer provides the home chef with a new ingredient that can be used in a virtually infinite variety of dishes. Many people find the sulfuric smell and crumbly texture of ordinary hard-boiled egg yolks off-putting, but MixedEggs eliminate both issues, enabling users to slice the golden-colored super food for use on a sandwich, as a topping for leafy greens or in potato salad and as new Easter eggs. MixedEggs are perfect as a soft, nutrient-rich food for babies and can be soft boiled to create an "omelet in the shell."
"We have a great passion for making natural healthy food that is fun for kids," says Isaac Eldar, CEO of Egglogix Ltd. "Eggxer is compact, fun, and easy to use and it will change the way people eat hard-boiled eggs. It will contribute in a better nutrition of kids in the world."
A true "superfood," especially for children, eggs contain B-complex vitamin choline, a nutrient that is essential for brain development and is associated with improved neurological function and inflammation reduction. But to benefit from eggs' nutritional value, the yolk must be consumed, and research conducted in Canada, Israel and the United States revealed that up to a third of children refuse to eat the yolk.
Eggxer - worldwide patent-pending - creates MixedEggs from any fresh egg of any type, age, temperature or size, in seconds and without puncturing the shell. The Eggxer needs no electricity. One simply places the egg in a protective casing which goes into the device. A lighted see-though dome makes it possible to see inside of the shell. To scramble, just pull the string a couple of times. Then, you can easily see the process in action through the shell, to determine when the egg is thoroughly mixed. Just simply hard-boil the resulted egg and benefit. Raw, MixedEggs have the same shelf life as regular eggs. Once hardboiled, MixedEggs extend shelf life from five to 30 days. Powered by a pull string, Eggxer is easy to use – transfixing children and adults as it transforms an ordinary egg into a MixedEgg before their eyes.
Now a featured product in a fundraiser on Indiegogo, Eggxer will be sold in a variety of colors, and early bird funders can pick up the world's first appliance to scramble any egg in its shell for a special introductory price of just $29. Market research shows that there is extraordinary public demand for a product like MixedEggs. To get in on the ground floor of a revolutionary new product launch, visit the Eggxer Indiegogo page at https://www.indiegogo.com/projects/eggxer-scrambling-eggs-inside-their-shells/x/6157057. Learn more about Eggxer at http://www.eggxer.com.
About Egglogix Ltd
Egglogix Ltd is an entrepreneurial organization that aims to change the way the world eats eggs. The company focuses on the development and sale of its breakthrough egg scrambling technology and patent-pending Eggxer devices for mixing eggs inside their shells. Eggnology is seeking partners worldwide, particularly kitchen appliance distributors and shell eggs wholesalers. For more information about partnership opportunities, please email Isaac(at)egglogix(dot)com. To learn more about Egglogix, visit http://www.egglogix.com.