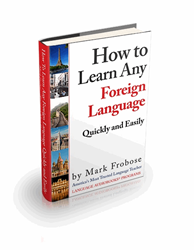 Free Language Lessons Now Available at www.languageaudiobooks.com
Champaign, IL (PRWEB) April 14, 2014
LanguageAudiobooks.com announces that their new website is up and running.
"Now is the perfect time to brush up on one's language skills," says Mark Frobose, bestselling multilingual author of Power Spanish, Power French, Power Italian, and Power Portuguese. "And what better way to do that than with free language lessons?"
The website, located at http://www.languageaudiobooks.com, features free audio lessons in Spanish, French, Italian, German, and Mandarin Chinese. "There are also quick links to instant downloads for all our audio language programs on Audible.com," emphasized Mark.
Last and certainly not least, the new website offers a full array of cutting-edge eBooks like "How to Learn Any Language Quickly and Easily" that teach readers techniques on how to learn languages quickly and easily.
LanguageAudiobooks.com specializes in downloadable digital language programs and CD programs like the bestselling Power French Accelerated which are extremely fast and easy to learn and that are immediately accessible to any smartphone or computer. The Language Audiobooks' motto is "Learn Languages Everywhere™".
The company's founder and CEO Mark Frobose is an expert language teacher who created the entire language audio line for Macmillan Audio of New York including the bestselling "Behind the Wheel French" program. For over a quarter of a century, Mark has created and produced more successful audio language programs than any other living individual in the world today. His bestselling Power Spanish Accelerated is rapidly becoming the nation's favorite all-time Spanish program.
Language Audiobooks' popular Power Spanish, Power French, and Power Italian, Bite-Sized Mandarin, Conversational Latin-American Spanish, Clean French Slang and other innovative language programs are available for download now at Audible.com or in CD format at Amazon.com.