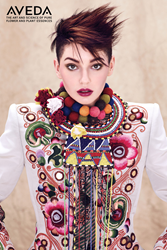 My and Van Michael Salon's shared passion for the AVEDA brand and commitment to providing our guests with the finest hair and beauty services available made this a natural fit; we are excited about our new venture. -Detlev Gessner
Miami Beach, Florida (PRWEB) April 14, 2014
Van Michael Salon announces that it will be moving to a new location in the newly renovated historic Van Dyke Building at 847 Lincoln Road on Miami Beach in September 2014, and will join forces with longtime salon industry leader, Detlev Gessner. The Van Michael AVEDA Concept Salon has been in business for 13 years in its current location on Michigan Avenue and will remain open there until their move to Lincoln Road this fall.
Gessner will work to enhance the Van Michael Salon into a full-service AVEDA Lifestyle Salon similar to his Detlev Salon + Spa location in Coconut Grove. Van Michael Miami guests will now benefit from the highest level of AVEDA standards and education providing an even greater consistency of service, plus access to AVEDA's complete line of salon products. Additionally, over the next year, Gessner will merge the Van Michael brand into his Grove location to create a cohesive Van Michael AVEDA Lifestyle Salon identity in two Miami locations.
"I'm thrilled to be partnering with Van Michael Salon," said Gessner. "Our shared passion for the AVEDA brand and our mutual commitment to providing our guests with the finest hair and beauty services available made this a natural fit. We are truly excited about creating something special with this new venture."
The Van Dyke second floor location will be expanded to over 2,500 square feet, offering all the specialty hair and beauty services that Van Michael Miami is known for.
Van Michael Salon has five locations in Atlanta; together with the Miami Beach location and a location in Tokyo, the salons have a 30-year history as flagship AVEDA Concept Salons. Dedicated to well being and beauty, the salons specialize in all hair and make-up services, with added services that include complimentary make-up touch-ups, hand relief treatments and stress relieving massage therapy. Through an approach of consistency through education, Van Michael Miami has attracted an enviable guest list, catering to celebrities such as Lenny Kravis, Mariah Carey, Kelly Osbourne, Ricky Martin, Esther Canadas, Anna Kournikova, Serena Williams and many others.
The Van Dyke Building is a 22,500 square foot mixed use building located at the intersection of Lincoln Road and Jefferson Avenue in South Beach. Carl Fisher, who developed several projects on Lincoln Road and was known as a pioneer of Miami Beach, originally developed the iconic building in 1924 as a hotel.
Master hair and color stylist Detlev Gessner has been developing salons under his name brand in Miami with prestigious success for more than 25 years. Together with his passion for the hair and beauty industry, a knack for cultivating talent, and a thriving partnership with AVEDA, Detlev's loyal guest base continues to follow him through every exciting endeavor including famed Spanish-language talk show host Cristina Saralegui.
For more information about Van Michael Salons, visit here.
For more information on Detlev Gessner, visit here.
For more information, please contact:
Detlev Gessner
305 215 2285
dg(@)detlev(dot)com
For media inquiries, please contact:
Jennifer L. Hobson-Hinsley
505 603 8643
Jennifer(@)jlhmedia(dot)com