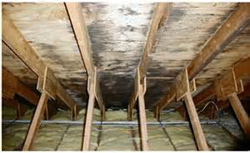 Act now to avoid turning what would have been an affordable repair job into a major cleanup effort after a major wind and rainstorm.
Orlando, Florida (PRWEB) April 14, 2014
Repairing Minor Damage to Roof
If the preliminary inspection reveals a few missing shingles, gaps around the vents on the roof or other signs of damage, the question may be, "Is it really something I should worry about now? I have a lot of other expenses." The reality is, yes you need to worry now. If left unprepared, these flaws caused by rainstorms can leave your roof susceptible to increased damage during high winds and heavy rains storms, "turning damage from tornado and hurricanes turn into destruction," said Todd Rhyne founder of Rhyne Restoration.
Prolonged water exposure can damage the wood decking of the roof as well. During a heavy rainstorm, water can leak inside the attic. Enough water will soak through insulation and could ultimately cause the ceiling to collapse. Slow leaks and prolonged water damage from smaller rainstorms can cause structural damage, which can lead to structural collapse in a heavier wind and rainstorm.
"Act now to avoid turning what would have been an affordable repair job into a major cleanup effort after a major wind and rainstorm," Rhyne continued.
"Whether you live in a hurricane-prone area or just somewhere vulnerable to heavy rainstorm activity, the steps you take to repair your roof now could potentially save you tens of thousands of dollars in repairs to the interior of your home and the roof," said the owner of of Pop's Auto Electric in Orlando Florida, a customer of Rhyne Restoration. "If you think you can't afford a roof repair, imagine covering the costs to cleanup and replace items inside your house or business as well as fix the roof, it is a mess I don't want to repeat," he advised.
Repairs needed to avoid major damage in continuing and worsening rainstorm activity as summer draws on.
Business Owners and Homeowners can expect to spend a few hundred dollars at most if minor damage is caught right after a rainstorm. "However, if it's time to re-roof the cost will go up, contact Rhyne Restoration for more information on rainstorm damage, re-roofing the right way to avoid damage and other helpful information for getting the most for your money," added Tait Carson of Barter Rewards, another client of Rhyne. If a roof cover is in good condition and only minor repairs are needed, keep the following steps in mind.
1. If the inspection revealed water damage to the sheathing after a rainstorm, replace it and take this opportunity to check the condition of the wood framing underneath the sheathing.
2. If shingles are in good condition but not well secured, apply roofing cement near the edges and in the middle of the shingle, this is vitally important to reduce damage from future rainstorms.
3. If there are gaps around vents or other roof penetrations, re-apply sealant wherever gaps and holes are present. Make sure the sealant is waterproof to avoid continued damage from rainstorms.
4. If any flashing is loose, secure it. Flashing is a thin metal strip that keeps water out of spaces where different building surfaces meet, very important to avoid water intrusion from a rainstorm.
Contact Rhyne Restoration at 404.205.2505 for more information on roof damage.
Contact Tait Carson at 855.652.2783 for more information on Barter Rewards.