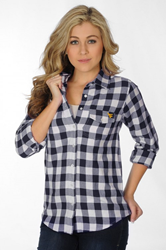 UG Apparel is now a successful women's brand, with over 20 top NCAA teams, and is adding more team contracts every year.
Charleston, WV (PRWEB) April 15, 2014
In 2009, Nesha Sanghavi decided to leave a secure job in finance and follow her passion for collegiate sports, and create University Girls Apparel. The brand was created because she and other young women struggled to find on trend, fashionable clothing to wear to support their favorite sports teams. UG Apparel is now a successful women's brand, with contracts with over 20 top NCAA teams, and is adding more team contracts every year. The line now sells in campus bookstores, team shops and department stores across the country.
UG Apparel's initial concept was to make cute, sexy apparel for college-aged girls, but when the first collection launched several years ago, the company was overwhelmed by alumni-aged women requesting to make designs that were more age appropriate and sized for an older customer, including plus sizing.
When Sanghavi spoke to the women that complained the styles in the line were too small, they informed her it wasn't just UG Apparel; all collegiate brands in the market were junior sized and they could not find anything to fit their body types. Sanghavi immediately realized an opportunity in the market, to create collegiate apparel strictly targeted towards alumni aged women, in missy sizing. Missy sizing means fitted for the average sized woman.
She threw out her first collection's size charts, which were what the American apparel industry follows, and custom created her own size charts based on measurements of real women. The second line was launched as a missy fit collegiate line, with plus size options, and the line started to sell off the store's racks.
Retailers called the company week after week, wanting to re-order. Previously, many average sized women could not fit in styles the stores offered because all the brands were junior. These women had to opt for a men's or unisex boxy tee. UG Apparel had successfully welcomed the trendy, average sized consumer back to the women's section where she could find options to fit her body type.
UG Apparel now sells across the country in bookstores and fan shops, and has several national accounts. This year UG Apparel is licensed with over 20 of the biggest colleges in the US, including highly coveted contracts with schools like University of Alabama, University of Georgia, University of Tennessee, University of South Carolina and West Virginia University.
For more information, please contact Nesha Sanghavi, nesha(at)ugapparel(dot)com.