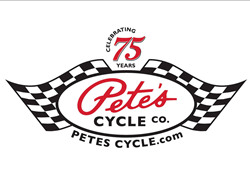 "It couldn't have happened to a better man. I'm so excited for John and the family of Pete's Cycle for receiving this very prestigious award. Congratulations John and thank you for your commitment to our local MDA families"
Baltimore, Maryland (PRWEB) April 15, 2014
The MDA originated in the 1950's by parents of children living with Duchenne Muscular Dystrophy. Contrary to popular belief, MDA is just an umbrella label, not a disease. The Muscular Dystrphy Association covers 43 muscular wasting diseases. They have worldwide research, 200 medical clinics across the country and each year, thousands of kids between 6-17 years of age attend week long accessible summer camps at no cost to their family. The Maryland area MDA Summer camp is located in
Leonardtown and sits on Breton Beach Bay.
Every year, the MDA awards the Shining Star to someone of great importance to the association for a job of excellence. To be considered for the award, a nominee must be an advocate of the MDA. They must also display a selfless streak: supporting MDA financially and also as a volunteer and spreading this commitment to their family and gaining their involvement to the cause.
John Leach of Pete's Cycle of Baltimore was selected because of his annual fundraising event that he holds for the MDA. The event, Pete's Cycle Bull and Oyster Roast for MDA raised seven thousand dollars this year. He has been supporting the MDA for nearly ten years and has helped raise more than $75K for Maryland area children and adults living with neuromuscular disease.
Initially, Harley-Davidson hosted the Bull and Oyster Roast for MDA, and would invite John Leach to purchase VIP Tables at the event. As time went on, the MDA and Harley-Davidson approached John to ask if he would be willing to become a major contributor of the event, and John went on to become the single host of the event this year.
In addition to hosting this fundraiser, John Leach garnered support from his business contacts and industry friends to become additional sponsors for this MDA event. Businesses such as Rider's Insurance, Moose Lodge of Bel Air, Carroll Independent Fuel/High's Dairy, Ad Layout Design, and Bon-Tom Productions were among the top supporting sponsors for this year's Pete's Cycle Bull & Oyster Roast.
Gina Clark, the Director of Business Development for the Baltimore MDA Office, was quoted as saying "It couldn't have happened to a better man. I'm so excited for John and the family of Pete's Cycle for receiving this very prestigious award. Congratulations John and thank you for your commitment to our local MDA families"