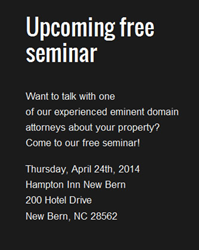 "It's a sad truth," NC Eminent Domain Attorney Jason Campbell said, "but few people realize they can negotiate for a 'second check.' They think they have to accept the first offer, and that's that."
New Bern, NC (PRWEB) April 17, 2014
Businesses, homeowners and other landowners who live in the 16-mile path of gigantic (nearly $200 million) Highway 17 widening/bypass project will soon receive word in the mail that the state will take their property – according to two former NCDOT attorneys who are holding a free seminar in New Bern on April 24th to help these property owners to understand their rights.
These developments involving affected property owners are part of what's known as "eminent domain." A more descriptive word: condemnation. Many property owners feel powerless and intimidated, unless they know their rights.
"The state essentially tells affected property owners in Jones and Onslow counties: here we come – and off you go, all in the name of progress," attorney Stan Abrams said. "Many people simply don't know what to do."
Attorneys Abrams and Jason Campbell know the system from the inside. They both spent years working in eminent domain for the state of North Carolina, but now work for the NC Eminent Domain Law Firm, representing property owners. Those property owners often need legal help soon after that letter comes in order to try to strengthen their position – to see if they can and should try to receive more money than the state initially offers. The firm has brought its valuable experience to public forums around the state.
Free Public Seminar for All Affected Property Owners
Thursday, April 24th at 7:00 PM
Hampton Inn New Bern
200 Hotel Drive
New Bern, NC 28562
Property owners who'll hear from the state in this round of contact are clustered mostly from Pollocksville to the southern fringe of New Bern. Major construction on what's known as the "D" corridor of the massive project (which stretches to just north of Jacksonville, NC) is slated to get underway next year, but the property acquisition must be completed first. This section involves more than 75 property owners and nearly 100 land parcels. Land purchases for the entire Highway 17 project will affect about 150 owners.
Property owners do have avenues to seek the fairest and best possible price. The NC Eminent Domain Law Firm seminar will answer questions, tell property owners what to expect, give insight on how to try to achieve favorable results, and go over specific project and property plans with individual owners, as requested.
"It's a sad truth," attorney Campbell said, "but few people realize they can negotiate for a 'second check.' They think they have to accept the first offer, and that's that."
Other areas covered in the NC Eminent Domain Law Firm seminar include:

How the value of your property is calculated
How to tell if the offer you receive is fair
How to build a case with the NCDOT to try and receive a better offer
For more information about the public forum - call the law firm at 1-877-393-4990 or contact us at http://www.nc-eminent-domain.com.
ABOUT THE NC EMINENT DOMAIN LAW FIRM:
A division of the Law Offices of James Scott Farrin, the NC Eminent Domain Law Firm is dedicated solely to representing property owners throughout North Carolina who may be impacted by eminent domain law. The NC Eminent Domain Law Firm is led by attorneys Stan Abrams and Jason Campbell, who previously worked as assistant attorneys general for the North Carolina Department of Justice in the Transportation Section, where they litigated condemnation cases for the NCDOT. They have more than 20 years of combined experience working exclusively on eminent domain cases. The Law Offices of James Scott Farrin has the legal resources of 32 attorneys and is based in Durham, North Carolina, with offices throughout the state to serve its clients.
Contact Information:
Stan Abrams
1-877-393-4990
NC Eminent Domain Law Firm
1505 S. Glenburnie Rd, Unit P
New Bern NC 28562