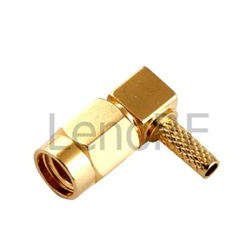 (PRWEB) April 14, 2014
Recently, LenoRF, a well-known electrical equipment supplier, has announced its SMA RF connector sale for April. At the moment, all the company's brand new SMA RF connectors are offered at deeply discounted prices, up to 30% off. The company wants to bring more benefit for worldwide distributors.
All the reliable company's electrical items are made of top quality materials. Its cheap SMA RF connectors are popular among worldwide clients. With years of hard work, the company has developed hundreds of innovative items for worldwide clients.
"Now, all our brand new SMA RF connectors are offered at a low rate. Please note that the big sale will be valid until April 28. Distributors who are looking for discounted SMA products should visit our website as soon as they can," the development manager for the company says.
In addition, LenoRF is now carrying a variety of high end electrical accessories, including SMA edge mounts for PCB, SMA Jack Reverse Polarity Edge Mounts, SMA Jack products and many others.
About LenoRF
LenoRF is a famous global manufacturer of coaxial connectors and cable assemblies. The company has been working in the electronics for several years; it insists on providing high quality items for worldwide distributors who are in need of affordable electronics accessories. Its great products can be widely used in many fields, including broadcast, wireless communications, land-mobile, microwave market sectors and so on.
For more information, readers can visit http://www.coaxial-connector.com/product/sma-connectors-male-right-angle-for-rg-178-crimping/.