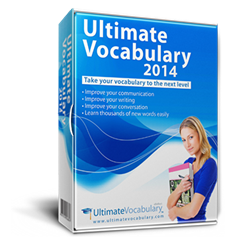 Reading is a practice people can engage with any time, and provides an excellent way to interact with English-language content.
New York City, NY (PRWEB) April 17, 2014
As ESL students advance their English skills they stumble upon a common issue, what some people refer to as a "plateau" in learning. In short, they figure out the best way to maximize their learning capacity in the time they have for study. To help solve this common problem, Michael Stavropoulos shares with the blog readers of the Ultimate Vocabulary™ site tips and approaches on how to incrementally acquire a strong and rich vocabulary.
Reading, as Michael Stavropoulos tells the Ultimate Vocabulary™ audience, is a practice people can engage with any time, and provides an excellent way to interact with English-language content. Reading gives the student the opportunity to learn new words easily. He emphasizes the fact that context gives many clues as to the meaning of an otherwise unknown word. Trying to extract semantic and syntactic information about a word helps the learner estimate whether a given word is a verb or a noun, whether its connotations are positive or negative, and other information that a simple vocabulary word list can't provide.
Stavropoulos observes that the use of reading-based context can be a fascinating way to increase vocabulary knowledge. Stavropoulos encourages students to guess the meaning of words they don't know, reassuring readers that these unknown words are semantically associated with words they already know the meaning of. With a bit of guesswork, people can start to figure out the meaning of unknown words, then confirm their guess through a valid resource or online reference. Once they are confident they have the correct meaning, they can actually learn that word.
Among the many tips that help students improve vocabulary, Stavropoulos also recommends trying to learn entire phrases or sentences with the newly learned word, rather than focusing on word in isolation. This ensures the word is not easily forgotten, because it was learned and stored in the student's memory as a short story or visual image. In his example, the phrase "The young boys felt ravenous after their long hike in the woods," creates a memorable visual image that helps the reader master the meaning and use of the word "ravenous." eReflect encourages anyone wishing to improve vocabulary fast to try these tips by Michael Stavropoulos.
For more information on how you can benefit from Ultimate Vocabulary, please visit its official website, http://www.ultimatevocabulary.com.
About Ultimate Vocabulary™
Ultimate Vocabulary provides a proven and powerful platform, built to improve anyone's vocabulary.
The interactive self-improvement system provides more learning tools than any other program on the market, as well as more information on words.
The Ultimate Vocabulary software provides each and every user with a personal computer tutor. Providing a step-by-step guide to learning a powerful vocabulary, Ultimate Vocabulary is the learning tool everyone can benefit from.
Of course, the software is also backed by eReflect's iron-clad money back guarantee.