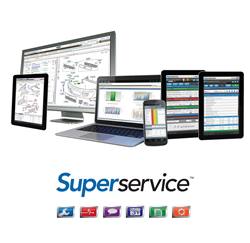 With Superservice Connect, the service department finally has a universal touch point that is always open, always transparent and always quick and easy.
Sydney, Australia (PRWEB) April 22, 2014
Global automotive industry solution developer, Infomedia Ltd (ASX: IFM) announced that it has launched a version of its leading edge Superservice Connect™ online service quoting and scheduling solution to the Kia Spain dealer network of 105 dealers. Vehicle owners can access Connect from their own device to receive a precise service quote and make a service appointment within seconds. The self-serve consumer quoting capabilities of Connect are powered by Infomedia's Superservice Menus™ professional dealer system, the industry's most comprehensive, feature-rich service quoting platform available today.
Infomedia CEO Andrew Pattinson said: "We are delighted to be supporting Kia Spain in this important initiative. Franchised dealerships must become digitally enabled to remain competitive in this fast-changing business environment. Superservice Connect is an innovative shift towards online engagement of dealer services, by moving the sales information directly to the consumer's device."
Connect can be seamlessly embedded into OEM or dealer websites to facilitate self-serve consumer quoting and appointment scheduling that is fast, accurate and engaging. Connect reinforces the benefits of genuine servicing by transparently pricing the work required according to OEM maintenance recommendations. It provides the dealership with a flexible selling presence 24/7 and offers an exceptional customer experience to grow satisfaction and brand loyalty.
Managing Director of Infomedia Europe, Jason Thorpe, is confident about the potential of Superservice Connect to improve service customer retention for franchised dealerships.
"The takeover of e-commerce has abolished the notion of retail opening and closing times, especially with younger demographics," said Mr Thorpe. "With Superservice Connect, the service department finally has a universal touch point that is always open, always transparent and always quick and easy. It's the perfect solution to offer the rich content and convenience that digital consumers expect."
According to Mr Thorpe, dealership staff will also enjoy the efficiency benefits of Superservice Connect. "Connect will not only have a profound impact on customer satisfaction and service retention with dealer and brand, but also on how dealers can maximise their allocation of human and capital resources. The ability of customers to get quick access to service quoting and appointment scheduling, without the intervention of dealership staff, creates more time to sell more service. Lost revenue through customer turn away will begin to be a thing of the past," he said.
Superservice Connect is the latest of Infomedia's aftersales solutions adopted by Kia Spain to boost dealer profitability, productivity and customer retention. Kia dealers are already enjoying the benefits of Microcat® LIVE™ Electronic Parts Catalogue in their parts departments, and Superservice Menus™ Precision Service Quoting℠ system in their service departments.
"The Connect solution leverages the innovation and scale of Infomedia's cloud assets from our Superservice™ platform. Our industry expertise in Parts and Service together with our innovative approach to product development provides unique opportunities to rapidly deploy complementary consumer solutions to our extensive global customer base," added Mr Pattinson.
About Infomedia
Infomedia Ltd is a publicly-listed company on the Australian Securities Exchange (ASX symbol "IFM"). It is a leading supplier of information solutions to the parts and service sector of the global automotive industry. Infomedia's business solutions are currently used each business day by over 147,000 dealership personnel. They are produced in more than 30 languages and at work in 186 countries. Their powerful search functions and intuitive, user-friendly interface helps boost efficiency, profitability and customer retention for genuine OE Parts and Service Departments.
Infomedia's Electronic Parts Catalogues (EPCs) allow dealers to quickly identify replacement parts manufactured by the world's leading automotive companies. The Company is also utilizing its technology and expertise to produce EPCs for other industries such as industrial equipment.
Superservice™ is the new brand family for the Company's unique solution suite of robust online solutions. These include: Superservice Menus, Precision Service Quoting; Superservice Triage, Multi-point Inspection; Superservice Insight, Customer Satisfaction Surveying; Superservice Connect, Self-service Appointment Booking and Quoting, and Superservice EPC, Microcat LIVE.
Full product line information can be found at:
http://www.superservice.com
http://www.youtube.com/superservicesolution