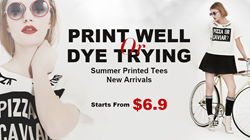 The competition has been taken to a whole new level by OASAP, it's officially survival of the fittest now.
New York (PRWEB) April 15, 2014
Great news to all the customers! OASAP will be holding an Easter Egg Hunting Promotion in the coming days, winners will get an exclusive 25% off coupon code. Plus, everyone can still enjoy the extra coupons OASAP provides, which could be applied to all the non-promotional products on OASAP, including fashion dresses, shoes, shirts and so on. This promotion ends on April 21st, so better hurry up!
Now we turn to the competition part.
If we analyze women's fashion industry, we will find that most clothing companies are just focusing on advertising and brand building, while their prices are still kept too high for ordinary customers. This spring, the competition has been taken to a whole new level by OASAP, it's officially survival of the fittest now.
As spring began, customers found the clothings on OASAP.com are much cheaper than they were in the previous years, many products are even 50% off. This time, OASAP reduced the prices for most of the categories, from dresses to shoes, shorts to shirts. With the prices marked down, the goods are certainly more affordable now, everyone can enjoy the tangible benefits from shopping on the site.
After OASAP slashed its prices,a lot of similar companies were forced to adjust the prices to keep up with the pace, but their prices still did not reach the lowest point. For example, the Vintage Jacquard Sleeveless Dress is sold at $18.98 on OASAP.com, while the price on another website reads $38.99.
"There are two very important roles in women's fashion market: product suppliers and distributors. Most companies are still in the stage of distributors, while OASAP is now working with suppliers directly. This is the main reason why OASAP can cut its prices by 50% off ", OASAP CEO Mr. Moore introduced, "However, marking down prices doesn't mean the quality and service will be reduced. This year, OASAP proposes three key words of its business philosophy: fashionable, affordable and comfortable. In other words, OASAP will always provide fashionable products with affordable prices for global fashion lovers, and it will at the same time maintain the best service to make every customer feel comfortable."
Always remember customers come first, only by helping customers save their money can we save our own. That's what we believe is the true golden rule in business and what pushes us forward all the time.
OASAP IS: A High-street Fashion Online store
OASAP Likes to: Deliver Fashion & Love!
OASAP is a global online store dedicated to high-street fashion by offering various kinds of women's apparel, bags, shoes, jewelry accessories, beauty products, etc.
OASAP's mission is to get you closer to the planet's most cutting-edge fashion, no matter where you are or what class you belong to.