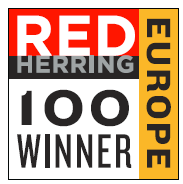 Herzelia, Israel (PRWEB) April 14, 2014
Extreme Reality, the only company to bring full-body motion analysis and control via a device's native or peripheral camera, today announced that it has been selected as one of the Red Herring Top 100 Europe for 2014. The award recognizes leading private companies from the European business region and celebrates their innovations and technologies across their respective industries.
Red Herring's editorial staff evaluated hundreds of companies on both quantitative and qualitative criteria, including financial performance, technological innovation, management quality, overall business strategy and market penetration. This assessment was complemented by a review of the track records and standings of similar startups in the same verticals, allowing Red Herring to see past the "buzz" and make the list a valuable instrument of discovery and advocacy for the most promising new business models in the European region.
"Selecting startups that show the most potential for disruption and growth is never easy," said Alex Vieux, publisher and CEO of Red Herring. "We looked at hundreds and hundreds of candidates from all across the continent, and after much thought and debate, narrowed the list down to the Top 100 Winners. Each year, the competition gets tougher but we believe Extreme Reality demonstrates the vision, drive and innovation that define a Red Herring winner."
"We're honored to receive this distinction from Red Herring," said Sarit Firon, CEO of Extreme Reality. "Our motion analysis technology is now being used by a large variety of developers, and we're excited about taking our unique ability to extract 3D motion from a standard 2D camera to other industries such as security, rehabilitation and brand promotion."
About Extreme Reality
Extreme Reality enables a future where people interact with computing devices through the motion of their body. It is the only company to provide full-body, software-based, 3D motion analysis and control to any computing device or operating system via a standard camera. Offered as a software development kit (SDK) and with 17 patents granted worldwide, the company's Extreme Motion product enables developers to create a wide range of experiences (applications, games, security solutions and more) that pioneer Natural User Interfaces (NUI) while breaking the physical barriers of current hardware-based technologies. Extreme Reality was founded in 2005 and is based in Herzelia, Israel.
Contacts:
Osnat Lidor, Director of Marketing for Extreme Reality
Osnat.Lidor@xtr3d.com
K/F Communications (for Extreme Reality)
David Fonkalsrud: 415/255-6506
Jane Vaden: 415/255-6508
xtr@kfcomm.com