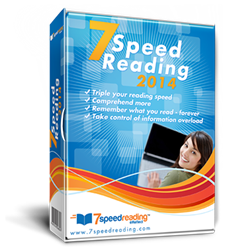 Instead of focusing on the cause and effect of the issue, it takes a more active approach showing how to respond, prevent and act against it.
New York City, NY (PRWEB) April 18, 2014
7 Speed Reading™ software developer eReflect notes that the recent feature article on Cli-Fi by the New York Times has dramatically helped the rise of the Cli-Fi trend in fiction. 7 Speed Reading™ features a post by Dan Bloom on its official blog, in which the Cli-Fi activist discusses Richard Perez-Pena's article, which appeared both in print and online in the NYT as "College Classes Use Art to Brace For Climate Change." The article shows how culture might help in forestalling climate change.
As Bloom reveals in his post, the article was inspired by Professor's Stephanie LeMenager's class at the University of Oregon, the first of its kind to engage with climate change under and through the perspective of culture. The seminar by LeMenager differs from the standard program in how it grapples with climate change. Instead of focusing on the cause and effect of the issue, it takes a more active approach showing how to respond, prevent and act against it.
People going on the 7 Speed Reading™ blog for tips on reading faster get to learn that in this class, students explore the various arts through which climate change is depicted. The class is inclusive and broad ranging, touching on literature, photography, films, and other forms of creative expression that artists use in order to talk about and educate the public on climate change.
The fact that a Cli-FI focused article has been featured in this prominent newspaper and read by millions, notes Bloom, will help tremendously in expanding the popularity of this genre. More people are expected to learn about this new category of science fiction, and will be more actively engaged both on line and in person in discussing the topic. While fiction in general is not what people choose to speed read, eReflect points out, there is a wealth of nonfiction information on climate change that faster reading skills will help them get through if they want to learn more.
As many Times readers were quick to note, the post-apocalyptic worlds climate change brought about in works of fiction like "I Am Legend" and "The Carbon Diaries 15" are touching a raw nerve for many on this internationally pressing matter. eReflect hopes that more globally acclaimed newspapers and networks will promote the emergence of Cli-Fi and climate change and thus help in creating more action at a grassroots level.
************
For more information about the benefits of using 7 Speed Reading, please visit the official website at http://www.7speedreading.com.
About 7 Speed Reading™
7 Speed Reading is the only modern speed reading software that uses the latest technology to produce superior results.
The software provides its users with a new way to master speed reading that guarantees three times the reading speed along with improved memory and comprehension.
The software is poised as the most comprehensive speed reading system anywhere. It contains seven learning strategies, fifteen software activities, video training, advanced tracking capabilities and many more exciting features.