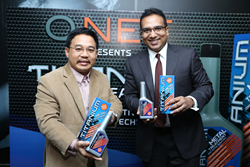 We are very pleased to add Titanium Metal Treatment to our expanding product portfolio. This cost-effective, performance-improving additive allows us to continue serving the broader needs of our customers. - Kuna Senathirajah, QNET Regional Director
Petaling Jaya, Malaysia (PRWEB) April 14, 2014
QNET, a leading Asian direct selling company, has introduced Titanium Metal Treatment with Zero Friction Technology™ - an engine oil additive for cars, motorbikes, heavy vehicles and machinery, among others, expanding its portfolio of products into the lucrative autocare segment.
Titanium Metal Treatment's one-of-a-kind Nano Technology penetrates into the smallest crevices of the engine (known as micropores) and forms a tough low friction shield which is able to withstand up to five times more weight and friction when compared to other high performance lubricants such as mineral and synthetic-based engine oil and oil treatment.
The product is the culmination of QNET's continued collaboration with Platinum Oil & Gas Sdn Bhd (PO&G), a Malaysian Small and Medium Enterprise (SME) which has been in the market since 2010. The result is a high-performance product that has been exclusively formulated for QNET, and available only through QNET's network of Independent Representatives (IRs) or via direct purchase at QNET's showroom in Malaysia.
"We are very pleased to add Titanium Metal Treatment to our expanding product portfolio. This cost-effective, performance-improving additive allows us to continue serving the broader needs of our customers.
"Additionally, our tie-up with PO&G is part of QNET's Partner Programme to help small local manufacturers market their products to a larger audience through the power of QNET's online store and distributor networks. QNET is committed to promote Malaysian products and to help support its small-medium entrepreneurs," said Kuna Senathirajah, Regional Director for QNET in Malaysia at a press conference held here to introduce the product.
Based on positive feedback from consumers in Malaysia, QNET said it is committed to take this SME product to a higher level, proving that direct selling can be a profitable venture if approached with the right marketing strategies.
"We are already working with PO&G to take this product internationally, starting with Indonesia, Vietnam, followed by Europe where we have an office in Germany. At the same time, we are also working at producing different ranges of oil for different vehicles in different markets," added Kuna.
Datuk Suhaimi Hashim, Managing Director of PO&G said he is delighted to seal this arrangement with QNET, which is one of the fastest growing direct selling companies in the world.
"We have full confidence in the direct selling business and our tie-up with QNET is based on the fact that QNET has got a strong network of IRs in Malaysia. They would be able to promote and market our products aggressively and help us grow stronger from a small enterprise into a formidable SME in the country," noted Datuk Suhaimi.
Besides outstanding engine performance and prolonging engine life, other key benefits of Titanium Metal Treatment are improving fuel economy up to 30 percent, keeping engine cooler, smoother and quieter up to 15 percent, increasing acceleration up to five times as well as keeping engine oil clean and extending engine oil change up to 5,000 kilometers.
Meanwhile, both QNET Malaysia and PO&G also inked a Supply and Distribution agreement to market Titanium Metal Treatment through QNET not only in Malaysia, but also worldwide. QNET has over five million IRs in more than 100 countries.
QNET retails a variety of products that enhance the everyday lives of its customers around the world. It focuses on nine products lines, namely Nutrition, Weight Management, Fashion Accessories, Personal Care, Home Care, Energy products, Watches & Jewellery, Education and Holidays. These products are offered through its e-commerce platform and marketed by IRs in over 100 countries. The company also has some 25 offices and agencies worldwide, and more than 50 stockists, apart from localised operations or franchisees in a number of countries.