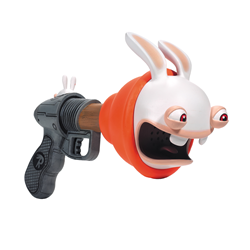 Rabbids fans and young boys and girls from coast-to-coast will crack-up when they find their Easter baskets have been invaded by hilarious Rabbids!
Tempe, AZ (PRWEB) April 14, 2014
Famed artist and toy designer Todd McFarlane has launched a hilarious line of Rabbids Invasion toys and collectibles available now at nearly 2000 Walmart stores and Toys R Us stores nationwide, just in time for Easter. The brand new line from McFarlane Toys is based on the Ubisoft® Rabbids® video game franchise and Nickelodeon's hit TV Series, Rabbids® Invasion. From the ultimate prank tool, the Plunger Blaster, to adorable and funny plush and feature-driven mini figures, Rabbids fans and young boys from coast-to-coast will crack-up when they find their Easter baskets have been invaded by Rabbids.
The Rabbids® Invasion Toy Spring 2014 (#Rabbidstoys)
Rabbids Plunger Blaster- Command a wacky army of Rabbids with the Rabbids Plunger Blaster that has 15 unique Rabbids sounds: Bwaaah, burp, fart, flush, laugh, and scream your way into the unpredictable Rabbids world. Once the Rabbids language has been mastered, put the Plunger Blaster into prank mode and play a joke on unsuspecting friends. Available at Walmart for $12.97.
Rabbids Sound and Action Figures 2-Packs
Two things to always expect when dealing with Rabbids are chaotic situations and a lot of Bwaaahing, and these new sound and action figures bring those two iconic inevitabilities together. Each wacky Rabbid figure comes with a zany play-action and assorted sounds that will have everyone bwaahing out of their seat! Each figure has a hang clip that attaches to coats, zippers, backpacks, purses and much more, so Rabbids can literally go everywhere. Collect them all! Available at Walmart for $12.97.
Rabbids Mini Figure Blind Bag
Create an army of Rabbids with these incredibly detailed McFarlane mini figures! Which wacky Rabbids figure will kids get? Maybe the rare, high value mystery Rabbids figure? The iconic collectible figures are fun to trade and swap with friends. Collect all seven unique Rabbids figures. Each figure sold separately. Available at Walmart for $2.99.
Rabbids Mini Figure 6-Pack
This Toys "R" Us Exclusive deluxe boxed set of 6 collectible McFarlane Rabbids mini figures. Displayed together in a box set, it's easy to see these cute little guys are ready to invade, discover, conquer and BWAHHH their way into world domination. Available at Toys R Us for $19.99.
Rabbids Plush
Kids and collectors alike may think Rabbids are cute and cuddly -- well, they are! Pick up these five uniquely soft, lovable, yet wacky plush Rabbids. Each squeezable Rabbid includes iconic facial expressions, and two come with crazy costumes for even more Rabbid fun. Loco Libre, Super Bwaaah, and three different White Rabbids Plush are all 11-inches from feet to ears. Available at Walmart for $12.97.
About McFarlane Toys
McFarlane Toys is the fifth largest action figure manufacturer in the United States. Established in 1994, the international award-winning company has expanded into licensed products to become one of the premiere action figure producers on the planet.
About Ubisoft
Ubisoft is a leading creator, publisher and distributor of interactive entertainment and services, with a rich portfolio of world-renowned brands, including Assassin's Creed, Just Dance, Tom Clancy's video game series, Rayman and Far Cry. The teams throughout Ubisoft's worldwide network of studios and business offices are committed to delivering original and memorable gaming experiences across all popular platforms, including consoles, mobile phones, tablets and PCs. For the 2012-13 fiscal year Ubisoft generated sales of €1,256 million. To learn more, please visit http://www.ubisoftgroup.com.
© 2013 Ubisoft Entertainment. All rights reserved. Rabbids, Ubisoft and the Ubisoft logo are trademarks of Ubisoft Entertainment in the U.S. and/or other countries.
Janis Van Tine
GennComm for McFarlane Toys
T: 310-493-1346
E: Janis(at)GennComm(dot)com
Carmen Bryant
McFarlane Toys
T: (480) 302-8028
E: cbryant(at)mcfarlane(dot)com
Rabbids Toys images are available at
http://ftp.spawn.com
click on 2014 Product Library
click on Kids Television
Connect with us! http://www.mcfarlane.com/RabbidsToys ; #RabbidsToys http://www.facebook.com/Rabbids