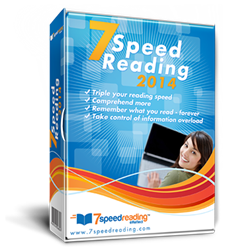 Gratitude reminds people that they're already accomplished in many ways, and it encourages them to further focus on their goals.
New York City, NY (PRWEB) April 21, 2014
eReflect, a champion of self improvement that has provided users with a series of self-growth software products, recently shared 7 motivational tactics that can lead to success. The article comes from the team behind the popular 7 Speed Reading™ software program and is featured on the website TheSelfImprovementBlog.com. eReflect's advice is designed to help people develop a success strategy for both their personal life and their professional one, and to integrate them for long-term achievements.
One of the tactics the reading speed improvement software shares is revising priorities on a regular basis. By doing so, a person avoids wasting precious time and effort on tasks that are essentially no longer important or relevant. What is more, as 7 Speed Reading™ software advises, people need to stop considering mistakes as a failure. Instead, they should look at a mistake as an insight into how to do things better the second time around. As the authors point out in the blog post, mistakes make future efforts and attempts at success less prone to failure, because people gain wisdom out of mistakes.
Practicing gratefulness is another tactic to follow for long-lasting success, 7 Speed Reading™ software recommends. Gratitude reminds people that they're already accomplished in many ways, and it encourages them to further focus on their goals. With a more confident attitude encouraged by present accomplishments, a person can channel this self-confidence into their day-to-day efforts. Starting small also ensures that potential failures will be small, and helps people stick with taking careful, solid strides towards success. A hurried success is rarely a sustainable one.
7 Speed Reading, the software that helps people improve reading speed, also advises people wanting success in their life to avoid the "comparison trap" where they begin comparing their accomplishments with those of others. This is more often than not a cause of great discouragement rather than motivation, and should be avoided. eReflect suggests a solution, saying that rather than comparing themselves to others and criticizing any perceived flaws, people should focus on their own successes and achievements no matter how small or seemingly insignificant. This is a much healthier approach than making comparisons, and will keep the focus on personal success and goals.
The latest article by 7 Speed Reading™ will help anyone currently feeling at loss, and provides useful information to help put people back on track with a strategy of hand-picked tips on how to achieve success.
************
For more information about the benefits of using 7 Speed Reading, please visit the official website at http://www.7speedreading.com.
About 7 Speed Reading™
7 Speed Reading is the only modern speed reading software that uses the latest technology to produce superior results.
The software provides its users with a new way to master speed reading that guarantees three times the reading speed along with improved memory and comprehension.
The software is poised as the most comprehensive speed reading system anywhere. It contains seven learning strategies, fifteen software activities, video training, advanced tracking capabilities and many more exciting features.