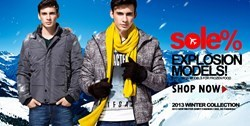 (PRWEB) April 15, 2014
Recently, a well-known clothing manufacturer, Skmen.com, has announced its new range of women's long sleeve shirts. All shirts in this collection are beautiful, and they are on sale now. Before the end of April, all clients can get a discounted rate, up to 30% off.
The company's website is a user-friendly platform; it is the ideal place for those who want to get top quality clothes at low wholesale prices. Clients can also enjoy dedicated professional service and fast delivery when shopping at its online store. It insists on providing its infinite number of satisfied customers with the latest and trendy clothes of highest standards.
Its website is updated weekly to offer the newest fashion trends for worldwide customers. And the buying procedure is simplified, so all orders can be placed easily and safely. The company has promised that all ordered products will be delivered as soon as possible; it wants to make things more convenient for all customers.
Skmen.com is well-known for its amazing attires available at competitive prices. It is a popular online supplier among worldwide consumers. The discounted women's long sleeve shirts are as good as other outfits in terms of style and quality. Deep discounts are offered by the kind company at times.
About Skmen.com
Skmen.com, a reliable company founded in 2009, is one of the leading suppliers of men's and women's high quality clothes. It has more than 5000 customers from every part of the world; it hopes to help worldwide stylish ladies and gentlemen. For more detailed information about the company and its wonderful items, readers can visit http://www.skmen.com/product-long-sleeve-t-shirts-003009006.aspx.