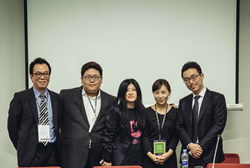 Because Korean media, specifically movies and TV series, have a huge influence in China, this can be a bridge to the Chinese market for wine producers.
Verona, Italy (PRWEB) April 14, 2014
The rich potential of the Korean market – both as a wine-consuming country as well as a bridge to China – was the subject of Vinitaly International's seminar on "The Presence of Italian Wine in Korea," part of its Talk Business series in Verona last week. The seminar series, new to Vinitaly this year, brought together importers, educators, sommeliers and press from various markets Vinitaly International has visited on its world tour over the past year – including Russia, the US, China, and Hong Kong – for targeted sessions aimed at helping Italian producers understand how to best position their brands in those countries.
"This is the first seminar dedicated to the Korean market for Italian wine," declared panel moderator and London-based wine communicator Claire Kyunghwa Nam, who then took the audience through an overview of the Korean wine market, which is growing primarily through large discount stores. "Major hyper-market chains such as E Mart, Home Plus and Lotte Mart are pushing the wine sales with various promotions," she continued. "With direct sourcing from the producers, they are able to offer good value for money, especially for the entry-level and mid-price range wines. This helps attract a general consumer and provide wider exposure to wine in Korea, and therefore helps to expand the size of the wine market."
Part of what attracts the Korean consumer is the association of wine with health and conviviality, as wine retailer and sommelier Wonkuk Soel explained: "Wine in Korea is associated with lifestyle and well-being; the health benefits of red wine are seen as especially important. Koreans generally prefer red wine – especially varieties with low acidity, an abundance of tannin, powerful structure and rich flavor – though recently there is a significant growth in sparkling wine, especially affordable varietals like Moscato and Barbera."
Further growth is possible if producers focus on promoting the consumption of wine with Italian food, which is already enjoying popularity in Korea, according to Asian wine educator Chanjun Park. "Wine producers from all over the world like to say that their wine is the perfect match with Korean cuisine – whether it's Australian Shiraz, Rhone or Chianti producers. But in reality, they should start by promoting Italian wines with Italian cuisine, which is already extremely popular in Korea. There are more Italian restaurants than restaurants of any other western cuisine in Seoul, overall ranked 4th after Korean, Chinese and Japanese. So there is already a huge market potential for Italian wine within Italian restaurants in Korea."
But aside from the potential for growth within the Korean market, perhaps the real potential is harnessing the popularity of Korean pop culture itself. According to Ji Hyung Andrew Kim, Wine MBA Bordeaux Ecole de Management, wine makers should capitalize on the 'Korean wave', the enormous popularity of Korean culture – from K-pop videos to fried chicken – in the Chinese market. "Because Korean media, specifically movies and TV series, have a huge influence in China, this can be a bridge to the Chinese market for wine producers," explained Mr. Kim. "Recently a product placement campaign was run using a Chianti in a popular Korean soap opera – that wine sold out within a week."
"We joke about 'Gangnam style' and K-pop, but really it's not a joke," continued Claire Kyunghwa Nam. "If you want to sell your wines to China, especially to young consumers, then one effective strategy is to have a Korean pop star drink your wine – either in the soap opera or in real life. That specific wine will suddenly receive massive demand from China – this happened in February for the luggage brand Samsonite, which had the star of mega-hit Korean Soap opera 'My Love from the Star' wear one of their backpacks, and watched sales triple over the same month last year."
As of now, obstacles to importing Italian wine in Korea remain. "The difficulties go beyond language," explained Ji Hyung Andrew Kim. "The Italian government doesn't work to help with importing the way the French government does."
"In the last four years we've gone through six ministers of agriculture," acknowledged Managing Director of Vinitaly International Stevie Kim. "Vinitaly tries to help the producers by filling the gap in this support, with products and services like this Talk Business seminar series. The week of Vinitaly is a difficult time to hold these panels, because all the producers are busy behind their stands - but it's a start, and we'll continue in December with Wine2Wine, the first event in Italy completely dedicated to the business of wine."
About:
Veronafiere is the leading organizer of trade shows in Italy including Vinitaly (http://www.vinitaly.com), the largest wine event in the world. The 48th edition of Vinitaly counted some 155,000 visitors (+6%) in four days of event, of which 56,000 were international attendees representing 36% of the total. On 100,000 square meters, 4,000 exhibitors welcomed trade professionals, media and producers alike. The next installment of the fair will take place on 22 – 25 March 2015. The premier event to Vinitaly, OperaWine (http://www.vinitalyinternational.com) "Finest Italian Wines: 100 Great Producers," will unite international wine professionals on March 21st 2015 in the heart of Verona, allowing them to discover and taste the 100 best Italian wines, as selected by Wine Spectator. In 1998 Veronafiere also created Vinitaly International to develop a global platform for the promotion of Italian wine producers in foreign markets such as Russia, China, USA and Hong Kong.
# # #