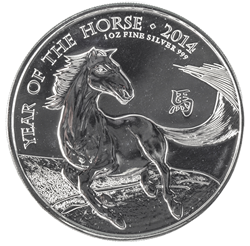 The release of special commemorative coins into the marketplace always signals a busy and exciting time for us at Hallmark Coins. But when mules appear on a coin celebrating the 'Year of the Horse', well that's just when things tend to get even busier.
London, UK (PRWEB UK) 14 April 2014
Nothing special about that really, although in this instance, in a bizarre twist of fate and with a large degree of irony, 17,000 'Year of the Horse' coins ended up becoming mules. Making them incredible collectors pieces for astute numismatists who have been able to spot the difference between the mule and their intended counterparts.
In numismatic circles, a "mule" is a coin or medal minted with obverse and reverse designs not normally seen on the same piece. These can be intentional or produced by error. This type of error is highly sought after, and examples can fetch steep prices from collectors.
In this instance numismatists may have struck the jackpot, as there have been not one but two errors when it came to the minting of the Britannia silver bullion £2 coins and the Year of the Horse silver bullion £2 coins.
Approximately 17,000 examples of the 2014 Britannia 1-ounce silver £2 coins were struck with an obverse die intended for the Royal Mint's inaugural Lunar bullion issue, celebrating the Year of the Horse in 2014. In addition, an estimated 38,000 examples of the Year of the Horse 1-ounce silver £2 coin were struck with an obverse die intended for the Britannia £2 coin. A slight mix up but one that means coin collectors will be scrambling to get their hands on one of these two rare coins, now made even rarer.
Elliot Basker, Online Business Manager, Hallmark Coins, said, "This is not the first mule that we have seen produced and it certainly won't be the last. Whether intentional or not, human error can often lead to a great windfall for those numismatists out there lucky enough to get their hands on one of these extremely rare coins.
"It is one of the few times in business where a mistake can lead to profit and not a loss. For those investors or collectors out there looking to buy or sell one of these special silver £2 coins, we recommend that you keep your eyes on the Hallmark Coins website or make use of our free coin valuation service."
On standard examples of the Year of the Horse coin, no dentils are found about the rim; the standard Britannia coin has dentils. All Britannia coins are supposed to have dentils inside the rim on both sides of the coin, while both sides of the Year of the Horse coins are designed without dentils.
The Royal Mint confirmed the existence of both error coins, though an official did not specifically refer to either piece as a "mule." Calling the dentils "edge decoration," Jenny Manders, a spokesperson for the Royal Mint, released a statement noting that, "Some of our recent bullion customers may have noticed a slight change in the design of the edge decoration of our UK 2014 £2 Britannia bullion coin, and the UK 2014 £2 Lunar bullion coin. The quality and value of the coins remains the same."
There as of yet have not been any confirmed sales of either mule coin, although several of the Britannia design with the improper obverse are currently offered at online auction site eBay.com and the United Kingdom platform, eBay.co.uk. Buy it now prices ranged from about £350 to £415.
That said, both 2014 coins are .999 fine silver, matching the new fineness adopted for Britannia bullion coins in 2012. Diameters, weights and other specifications are the same. So keep your eyes peeled for them.