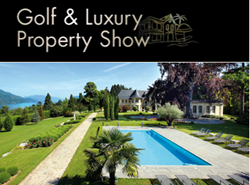 It is clear that this is a favorite destination for the Russians.
Nice, France (PRWEB UK) 23 April 2014
Nice Properties Real Estate Group will be exhibiting at the Moscow Golf & Luxury Property Show on April 25-26th where they will be showcasing their luxury property portfolio as well as some key new build development projects.
Participation at this internationally based property trade show comes shortly after their participation at A Place in the Sun Live in London that took place at the end of March and is part of Nice Properties' recent "Going Global" marketing initiative.
"Going Global" is targeted to further extending the Nice Properties' brand reach on a more global scale while providing clients with an easy direct access to meet with the group's agents to discuss their future investment plans.
Nina Metrevelli, Russian sales manager for Nice Properties, explains, "We are very excited about participating at the trade show since our portfolio of Russian clients has been steadily increasing with more Russians wanting to invest in the French Riviera. It is clear that this is a favorite destination for the Russians."
"We will have the direct benefit of meeting with many Russian clients that are interested in buying property abroad and presenting them with our complete portfolio of properties on the French Riviera. This is a key event for us in order to get a true picture of what is happening in the Russian real estate market and a key indicator of their preferences into what kind of properties they are interested in."
This will be Moscow's fourth golf and property trade show and was planned by the show's organizers aiGroup in order to cater to the high net worth Russian clients that have been steadily investing in overseas property not only for investment, but also for their own pleasure.
The Moscow Luxury Property Show will take place at the Tishinka exhibition center and will run from 12:00-19:00 on April 25th and from 11:00-19:00 on April 26th. Entrance is free.
About Nice Properties
Nice Properties is the French Riviera's leading local real estate group specializing in the sale of luxury villas, vacation homes, apartments, new build residential projects and commercial real estate. Offering the most effective professional multi-lingual network of real estate professionals with 5 agencies along the Cote d'Azur from Cannes to Villefranche and two specialized departments for New Build and Commercial real estate. They provide a sophisticated and seamless platform for the best real estate opportunities and investments on the French Riviera along with a strategic marketing portfolio that covers both national and international markets. To find out more information please visit http://www.nice-properties.com.