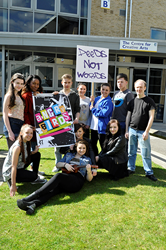 To have the opportunity to work so intimately with one of the best musical theatre writers in the country is not something that many FE colleges can offer.
Hornchurch, Greater London (PRWEB UK) 16 April 2014
Angry Birds will be given its world premiere by Level 3 BTEC Musical Theatre students in The Space at Havering College's Ardleigh Green campus on Tuesday, May 20th.
The production running from May 20th-23rd is supported by a grant from the Cameron Mackintosh Foundation.
Angry Birds is a punk re-imagining of the Suffragette story set in a mythical bird-world. Emmeline Pea-hen and her gang of Angry Birds are fighting for equality in a world where hens do not have the right to sing. The Parliament of Owls won't know what has hit them.
Dougal Irvine is in the premier league of contemporary musical theatre writers. His award-winning shows including Departure Lounge (London, New York, Chicago, Edinburgh, Belfast) and Britain's Got Bhangra (Theatre Royal Stratford East) are widely praised both here and abroad. His work has been recorded by leading West End stars including Samantha Barks and Julie Atherton. Mark Shenton, chief critic of The Stage newspaper calls Dougal 'the real deal as a composer, writing alternatively moving and catchy tunes in a modern pop idiom that are absolutely original.' Stephen Fry calls Dougal's work 'completely original in tone, style and manner' and hails 'a unique and exciting talent'.
Dougal has been working with Havering College musical theatre students on developing Angry Birds since October. Havering College of Furhter and Higher Education holds Artsmark Gold status from Arts Council England in recognition of its commitment to, and excellence in, arts education.
As well as playing all of the roles in the musical, the students have choreographed and directed the show themselves with guidance from college lecturers, Sandra Broxton, Julia Stallard and Simon Gray.
The costumes have been designed by the students with help from fashion technician, Lynn Trubridge. Enterprise Hub co-ordinator Laura Trapp has advised the students on business aspects and the graphics have been designed by lecturer Steve Page. The show's band will be made up of Havering College BA Music degree students. Lighting and sound will be designed and operated by BTEC Level 3 Music students under the supervision of lecturers Will Trubridge and Lisa Houghton.
Havering College Musical Theatre lecturer Simon Gray said: "This is a once-in-a-lifetime experience for all the students involved. To have the opportunity to work so intimately with one of the best musical theatre writers in the country is not something that many FE colleges can offer. Creating a new musical is notoriously difficult, even for seasoned professionals, but the students have not been the least bit fazed by working at such a high level.
"Everyone involved has a huge feeling of ownership and pride in their work. Even though many other people may perform the show in years to come, it will always have the stamp of first being created and performed by students at Havering College.'
Tickets for Angry Birds in The Space at the Havering College Ardleigh Green Campus, Ardleigh Green Road, Hornchurch, Greater London from May 20th-23rd at 7.30pm are £5 (£3 students) and are available from Havering College Threshold Services on 01708 462732.
For information on Performing Arts courses from Level 2 to HND call 01708 462801 or email information (at) havering-college (dot) ac (dot) uk