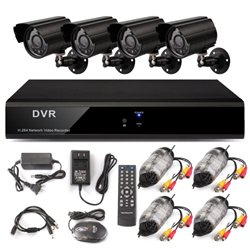 (PRWEB) April 14, 2014
BestCCTVSystem.com, a professional CCTV accessories supplier, has recently announced its 8 channel CCTV security system (H.264 DVR Recorder with 4 Day-Night Ourdoor Surveillance Cameras Kit). BestCCTVSystem.com is to help people choose the best CCTV systems before making any buying decisions. (http://www.bestcctvsystem.com/l2go-home-8-channel-cctv-security-system-dvr-recorder-4-day-night-ourdoor-surveillance-camera-kit-h-264/)
The details of the new 4-channel system are as follows:

8 Channel H.264 CCTV DVR. (2CH D1 and 6CH CIF). Recording: 2CH D1 + 6CH CIF; Playback: 8CH CIF.
Supports One-Touch Online, Icloud Software.
Supports 1 SATA HDD up to 2TB each (Not Including).
Recording 2 channel D1+6 channel CIF; Playback 8 channel CIF.
Mobile monitor: (iPhone, Windows Mobile, Blackberry, Symbian, Android).
BestCCTVSystem.com has updated its website to help customers around the world to buy CCTV products, DVRs and car cameras in a more economical way.
The company has been bringing high quality car DVRs and car cameras to its customers for years. Customers can always find what they need on this comprehensive resource.
"We have a money back guarantee, which provides customers a risk free way of buying any of our amazing products," the CEO of the company states.
About Best CCTV System
Best CCTV System (BestCCTVSystem.com) is a professional company supplying different CCTV cameras and security surveillance systems. They pay much attention for the hottest trends of CCTV products. The company presents the latest products in an easy for its customers to effectively find the exact products they want at Google, Yahoo and Bing. For more IP Cameras, please visit: http://www.bestcctvsystem.com/