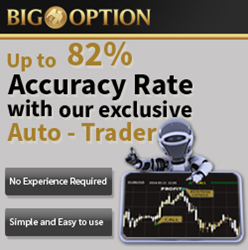 The auto trader is for those traders who are busy and don't have enough time to spend on monitoring trades.
London, UK (PRWEB) April 16, 2014
BigOption launches its exclusive Auto Trader, a fully automated trading robot, designed to help binary options traders yield higher return on their investment. In its well-meaning attempt to cater for its growing portfolio of customers, the binary options broker offers its Auto Trader service to those traders who don't have enough time to spend on trading activities, but who are still willing to venture into the most lucrative investment tool of the century.
Based on the Faunus Analytics Trading Signals, the trading robot from BigOption guarantees an accuracy rate of 82% and is one of the most consistent and trustworthy auto trading systems on the market. Designed by financial experts and trading consultants, the BigOption Auto Trader is fully automated and doesn't require any downloads or third party application. The auto trading service is also available on various assets. The trader only needs to choose one or more assets and the trading robot will do the rest.
Subscribing to the Auto Trader service comes with various advantages for the trader. While the option broker acknowledges the complexity involved in trading, it therefore urges novice traders to make use of the trading robot. In doing so, traders are relieved of the burden of following all market events and monitoring trades. The exclusive trading robot has a proven track record of maximizing profits. However, the trading robot service is not designed only for novice traders, but to anyone, irrespective of their trading experience. As stated by Mrs Avah Forbes, managing executive at BigOption, "the auto trader is for those traders who are busy and don't have enough time to spend on monitoring trades. We, at BigOption, believe that the trading robot will allow traders to have better success rate at trading binary options. BigOption has always been known for its innovative features and for making binary options trading accessible to everyone. After the huge success of our trading signals service, we decided to provide more to our customers. Hence, the idea to come up with a fully automated trading robot".
A recent study conducted by the financial and risk management consultants at BigOption revealed that the auto trader has a success rate of over 80%. Before the official launch of the trading robot, BigOption offered the service free of charge for 3 months to over 500 binary options traders. More than 85% of traders saw their investment yield higher returns and the trading robot came close a success rate of 82%.
On top of providing the auto trading robot, BigOption also offers an extensive library of learning materials to both novice and experienced traders. The BigOption Academy contains video tutorials and a comprehensive eBook on how to get started on binary options trading. Traders are advised to go through the wide range of educational materials, prior to trading on the platform.
About BigOption
BigOption, leading binary options trading broker, offers a secure platform for trading purposes along with a wide range of assets. Founded by a team of financial experts, BigOption constantly innovates to provide traders with a pleasurable trading experience. For more information, please visit http://www.bigoption.com