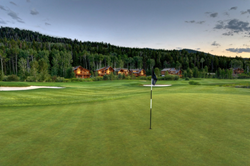 Together with South Fork Lodge, Natural Retreats now operates what many consider to be the crown jewels of recreation in the region.
Charlottesville, VA (PRWEB) April 15, 2014
For decades, spectacular natural beauty and limitless sporting opportunities have drawn countless visitors to eastern Idaho. The challenge for families and groups seeking "something for everyone," however, was the lack of a comprehensive resort that offered private and unique Outfitting excursions alongside full-service Spa and world-class dining options.
Today, with the announcement of a new operating agreement at the award-winning Teton Springs Lodge & Spa – and continued operation of the renowned South Fork Lodge on the Snake River – Natural Retreats is now providing an unprecedented experience in the greater Yellowstone ecosystem with services and amenities for everyone from hardcore anglers to families, destination weddings to corporate gatherings.
Natural Retreats, the leisure travel company offering extraordinary experiences at a selection of stunning coastal, countryside and wilderness locations around the world, has recently added a number of destinations to its fast-growing portfolio across the United States, including the Greystone Inn (Lake Toxaway, NC), Tsaina Lodge (Valdez, AK), and the Wilderness Lodge and Bavarian Chalet (Taos, NM). Natural Retreats acquired the Homestead Preserve (Hot Springs, VA) in 2013, as well as the trendsetting Bundoran Farm (Albemarle County, VA) – a "preservation development" where homesites are tucked among working farmland and rolling Blue Ridge hillsides with fully 90% of the property's 2,300 acres under conservation easement.
Across all Natural Retreats properties, guests gain access to spectacular landscapes with top local Outfitting guides whose mission is creating once-in-a-lifetime outdoor adventures. Above all, the company prioritizes exceptional personal concierge service for guests and accommodations as unique and inspiring as their surroundings.
Teton Springs Lodge & Spa is considered a near-perfect fit for the Natural Retreats portfolio. Looking forward, Natural Retreats will also bring its noted concierge service and Handpicked vacation home rental platform to the cottages and homes surrounding Teton Springs, extending the power of a Natural Retreats Idaho vacation into a way of life for those entering a resurgent second-home market.
Recently, Teton Springs Lodge & Spa was recognized with the 2014 "Best Hotel in Idaho" award from U.S. News & World Report – for the third consecutive year – and the "Top Resort in Idaho" in 2012 and 2013 based on guest reviews of 334 hotels and resorts on TripAdvisor.
"A cornerstone to this opportunity is our shared absolute commitment to unparalleled guest service," said Matthew Spence, CEO of Natural Retreats. "The Teton Springs Lodge & Spa is routinely recognized by the press and visitors as both an amazing resort in the heart of Yellowstone-Teton country, and as a place where no detail is overlooked so that guests can connect directly with nature and one another. Together with South Fork Lodge, Natural Retreats now operates what many consider to be the crown jewels of recreation in the region."
Guests at Teton Springs can enjoy golf on the Byron Nelson designed Headwaters Course, new private access to a 65-mile stretch of the Snake River and Natural Retreats' world-class fly fishing guides and access to the limitless four-season adventures awaiting in neighboring Grand Teton & Yellowstone National Parks. At the Lodge, guests are pampered at the noted 5,000 square foot Stillwaters Spa & Salon, and enjoy the cuisine of the culinary team led by Chef Rick Sordahl, recognized by the James Beard House. When matched with the setting, accessibility, ample space for functions and renowned service, the Lodge is becoming a sought-after year-round wedding and corporate retreat destination.
Booking is now open at http://www.naturalretreats.com/us/teton-springs-lodge or by calling +1 (877) 805-7794.
About Natural Retreats
Natural Retreats is a luxury travel company specializing in spectacular, unique destinations that balance elegance, adventure, and an uncompromising commitment to personal service. Spanning the United States, the United Kingdom and Ireland, Natural Retreats offers a variety of accommodations including resorts, inns, lodges, castles, and private vacation homes. To learn more about Natural Retreats, view its worldwide portfolio of properties and book travel, visit http://www.naturalretreats.com.