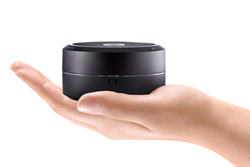 Popular Bluetooth Speaker, the Air
New York, NY (PRWEB) April 15, 2014
Rokit Boost prides itself on providing high-quality mobile accessories that enhance what today's popular mobile devices have to offer. Today, Rokit Boost is pleased to announce that it has expanded the color options in which its bestselling Bluetooth speaker, the Air is available in. Consumers can now purchase the Air in black or grayish-aluminum body colors.
This bestselling Bluetooth speaker raises consumer expectations for quality, as it's been designed with a sleek, great-looking design and great audio playback capability. The Air has 2.1+EDR Bluetooth technology that makes it compatible with the iPod, iPad, iPhone, an array of tablet models, or any device with Bluetooth capabilities.
Fantastic Audio Quality:
The Rokit Boost Air has been carefully engineered for crystal-clear audio quality. Mobile accessory users will never have to settle for a subpar listening experience ever again. All that's needed is just connecting the Rokit Boost Air speaker to a mobile device or any Bluetooth-enabled accessory. Then the Bluetooth speaker is ready for listening to great music or sharing engaging video or music content with your friends.
The Rokit Boost Air's battery allows for up to 8 hours of playback time. Only a few hours of charging are needed for optimal performance time.
Hands-free Communication:
With the Rokit Boost Air, users aren't limited to just great audio quality. The Bluetooth speaker comes with a built-in microphone, making it useful for easy chatting with family or friends or for effortless, hands-free communication while in the office.
Stylish and Functional
Mobile lifestyle consumers care about how their favorite accessories as well as how they perform. The Rokit Boost Air has been designed with the aesthetic standards of today's consumer in mind. For a contemporary look, the Bluetooth Speaker sports a modern, aluminum enclosure body. Its lightweight frame and body design make it ideal for use while traveling. Plus, a provided hand rope makes usage of the speaker more convenient while on-the-go.
The Air's charging cord is designed to be used with an existing iPhone wall charger. There is no need, therefore, for having to keep track of any additional charging equipment accessories.
What's the Word?
"I love this speaker. It's small and lightweight, it's easy to use with bluetooth, and it plays back music for around 8 hours. The audio quality is great when I use it with my iPod, and I plan on trying it with my iPhone soon too. The battery takes a few hours to recharge, but it's well worth the wait for the high quality sound it provides." - Satisfied Amazon customer
"I returned another Bluetooth speaker that was not working and got this one instead. This one works fine. The sound is good, connection is very simple. Very happy with this product." - Satisfied Amazon customer
Availability
The Rokit Boost Air is available through Rokit Boost's online store and select retailers and providers. It is priced at $39.99. In line with Rokit Boost's commitment to customer satisfaction, the Bluetooth speaker comes with a 1-year warranty.
Rokit Boost also offers other great products including iPhone battery cases that double the smartphone's battery life, power banks for keeping mobile devices charged for the long haul, and numerous other accessories for enhancing the mobile consumer experience.
Visit http://www.rokitboost.com for more details.
About Rokit Boost
Rokit Boost is a pioneer of affordable, high-quality mobile accessories. Whether they are innovations including iPhone charger cases, Bluetooth headphones, or wireless Bluetooth speakers/microphones, Rokit Boost's team seeks to add substantial enhancements to great existing products.
The company also offers a refurbishment program of certified products for exceptional customer value, at reduced pricing.