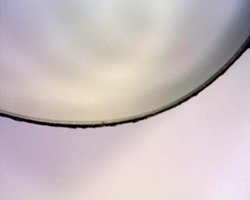 Bonita Springs, FL (PRWEB) April 16, 2014
Radiopaque Solutions, Inc., the industry leader in the design and application of x-ray visible materials technology, announced the production of new high definition radiopaque catheter marker bands. The new bands will replace traditional metal bands used for many catheter applications.
CEO Thomas Lachner explains the new technology: "Traditional metal platinum or tungsten marker bands have the ability to cause the catheter to kink when bent or twisted. These bands are crimped on and can come loose over time. Flexible urethane tungsten radiopaque bands can be heat formed and bonded into the wall of a polymer catheter. They can be made from .015" to 1" in diameter. Wall thicknesses as thin as .002" are possible based on the application." Lachner added: "The bands are flexible and that allows them to move and conform to the shape of the underlying tube. No kinking or crimp points."
The high definition bands have been shown to be an advanced design tool in the medical device designer's tool box. They are a less expensive, safer alternative to existing rigid metal technology. Nanofabrication processes allow the combination of submicron metal particles with thin film urethane materials to create highly radiopaque biocompatible materials. These materials are formed into marker bands and other structures for use in medical devices.
These high density radiopaque materials are currently in use in a broad range of medical devices ranging from cardiovascular catheters to biliary drains. The bands can be customized for individual device applications.
For More Detailed Information: http://www.radiopaque1.com/radiopaquemarkerbands.html