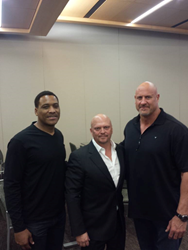 Phoenix, AZ (PRWEB) April 16, 2014
An increasing number of current and former NFL players are turning to dentists and oral appliance therapy as their solution to sleep apnea. This is thought to be a direct result of Pro Player Health Alliance's national campaign titled "Tackle Sleep Apnea". The "Tackle Sleep Apnea" campaign involves David Gergen, President of PPHA, and his team travelling the country to promote awareness through public events and private player screenings with the Living Heart Foundation's HOPE (Heart, Obesity, Prevention & Education) Program.
Mr. Gergen mentions, "More and more retired NFL greats contact me regarding treating their sleep apnea. I am happy to refer them to a dentist or medical doctor who can help them." Recently Pro Player Health Alliance, Smile Brands and the Professional Athletes Foundation with Andre Collins as the Executive Director have developed a plan to help direct the players towards long term solutions for all of their health needs. Their goal is to ensure players living near any one of the hundreds of Smile Brands affiliated dental offices will be able to see a Smile Brands affiliated dentist and be taken care of for their dental and sleep apnea needs by getting tested and delivered an oral appliance when medically indicated.
Since beginning the "Tackle Sleep Apnea" campaign, Pro Player Health Alliance has teamed up with multiple organizations, medical doctors, dentists and players to help get over 180 former players treated for sleep apnea and educated tens of thousands of the general population in various communities across the country.
About Pro Player Health Alliance
Pro Player Health Alliance (PPHA) is an organization dedicated to helping former NFL players, through providing testing and treatment options for those who suffer from sleep apnea. Since launching in April 2012, over 160 players have been treated through PPHA's "Tackle Sleep Apnea" campaign. Also, the PPHA is dedicated to integrating education and raising sleep apnea awareness, in a fun and memorable way. In addition to the campaign, PPHA is dedicated to testing and getting people who suffer from sleep apnea treated.
About the NFL Players Association
The National Football League Players Association (NFLPA) is a non-profit, professional sports union that protects the best interests and welfare of all NFL players. Established in 1956, the NFLPA is governed by a Board of Player Representatives, acting in accordance with the NFLPA Constitution and federal labor laws. The NFLPA's responsibilities include: Representing all players in matters concerning wages, hours and working conditions and protecting their rights as professional football players; ensuring that the terms of the Collective Bargaining Agreement are met; negotiating and monitoring retirement and insurance benefits; providing other member services and activities; providing assistance to charitable and community organizations; enhancing and defending the image of players and their profession, on and off the field. For more information, visit http://www.NFLPlayers.com.
About Living Heart Foundation
The Living Heart Foundation (LHF) is a nonprofit organization under IRS 501 (c) (3) code. The LHF was initially funded by a grant from the Edison Foundation. Subsequently, Funding sources and donations have been obtained from companies like Covidien, Pfizer, Meridian Health System, Siemens, Professional Athletes Foundation, and from individual sources. The LHF was established by Arthur J. Roberts, MD in April 2001 to combat sudden cardiac death and to provide cardiovascular risk stratification with early preventive intervention for cardiac, pulmonary, and metabolic conditions through on-site screening and integrated follow-up health programs. The LHF has published 10 peer review papers related to CV risk in college students & athletes, as well as former NFL athletes.
About David Gergen
As President of Pro Player Health Alliance, he has been a nationally respected dental lab technician for over 25 years. He received the award for "The Finest Orthodontic Technician in the Country" given by Columbus Dental in 1986. He also has been appointed chair of the dental wing of the American Sleep and Breathing Academy, a national interdisciplinary academy dedicated to sleep training and education. He has worked for some of the pioneers in the orthodontic and sleep dentistry fields. One of his proudest achievements is receiving The National Leadership award for Arizona Small Businessman of the Year in 2004.
Living Heart Foundation
Scott Perryman
Scottlhf(at)gmail(dot)com
508-2541108
NFL Players Association and Professional Athletes Foundation
Carl Francis
Carl.Francis(at)nflplayers(dot)com
Pro Player Health Alliance
David Gergen
gxployer(at)aol(dot)com