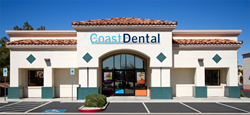 Henderson, NV (PRWEB) April 14, 2014
Coast Dental - Henderson, located at 2660 Windmill Parkway in the Las Vegas suburb of Henderson, NV, is welcoming new patients to its beautiful, fully-renovated practice. Formerly known as Nevada Dental Associates, the practice was acquired by Coast Dental and redesigned with patient comfort in mind.
The friendly, experienced team includes general dentist Elias Chambers, DMD, and orthodontist Kelley Dunay, DMD. There are many options for fixing teeth including fillings, crowns, root canals, bridges, dentures, dental implant restorations, veneers, teeth whitening, braces, and Invisalign®. To schedule a dental appointment or to schedule a free orthodontic consultation, please call (702) 309-0906 or visit http://www.CoastDental.com/Henderson. The practice is open Monday through Friday, 8 a.m. to 5 p.m.
Coast Dental accepts more than 200 types of insurance, plus has a number of grand opening special offers available. The first 100 patients who complete treatment valued at $200 will receive a complimentary InteliSonic power toothbrush with built-in UV sanitizer. Patients without dental insurance can receive a complimentary new patient exam or emergency exam. Coast Dental also offers SmilePlus®, which saves patients without insurance up to 70% on their dental costs. SmilePlus is free to join and patient savings start immediately. Additional offers and details including traditional braces for zero down and $99 per month are available at CoastDental.com/offers. Patient financing and payment plans are available to qualified applicants. For more information, please call the office at (702) 309-0906.
# # #
About Coast Dental
COAST DENTAL OF NEVADA, INC., with its professional associations, is one of the largest providers of general and specialty care in the United States with more than 175 affiliated practices operating as Coast Dental and SmileCare in Florida, Georgia, California, Nevada and Texas. Coast Dental Services, Inc. is a privately-held practice management company that provides comprehensive, non-clinical business and administrative services to its affiliated practices. The company is headquartered in Tampa, Florida. For more information, visit CoastDental.com.
Disclaimers
New Patient Exam & X-Rays Offer: ADA D0150/D0210/0096. Free. $290 value. Excludes panoramic x-ray which may be required ($20). Emergency Exam & X-Ray Offer: ADA D0140/D0220. EMER. $137 value. These offers cannot be combined with insurance, a discount dental plan or SmilePlus and they expire May 31, 2014.® Orthodontic Consultation offer: D9310. BRCON. $150 value. Expires 12/31/2014. Braces offer: Offer valid for patients without insurance, discount dental plans, or SmilePlus. Offer good in absence of gum disease and other factors. Metal brackets. 24-month treatment; appliances not included. Monthly payment based on 48-month CareCredit financing with 14.9% APR for qualified applicants. SMILEPLUS® IS NOT A REGISTERED INSURANCE PLAN. Patients may sign-up in office and savings begin immediately. InteliSonic Offer: Not to be combined with Medicare, Medicaid or TriCare. FRINT. $89 value. Expires 5/31/2014 or while supplies last. Minimum fee only. Fee may vary with complexity of case. As of April 14, 2014, Kelley M Dunay, DMD (Lic. S3-183), Elias N Chambers, DMD (Lic. 5565), Gary J Geracci, DDS (Lic. S2-51C), Gwendolyn A Traylor, DDS (Lic. 6273), Beth K Yamashiro, DDS (Lic. S3-238), Tara B Boshnack, DDS (Lic. 6271), Behzad Garagozloo, DDS (Lic. S7-64), Richard J Darsky Jr, DDS (Lic. 4591), Nikki R Norton, DMD (Lic. 5424), Bibiana C Ezeanolue, DMD (SG-118) and their respective hygienists are employees or independent contractors of COAST DENTAL OF NEVADA, INC., (Cindy V. Roark, DMD, Lic. 6157). © 2014 Coast Dental. All rights reserved. CD-101968