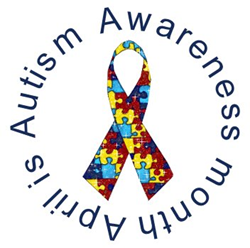 'Very informative! The information will be very beneficial in working with my clients!' - Roberta Nickell, California OT
Plano, TX (PRWEB) April 17, 2014
AOTA approved continuing education provider HomeCEUConnection.com is recognizing the importance of April's Autism Awareness month with reduced pricing on a special selection of courses to enhance treatment skills and resources for therapists working with autistic patients as well as maintain an even emotional "keel" while doing so.
Therapists who use the promo code "AAM2014" before April 20th will take advantage of deep savings on any or all of these six premium continuing education courses:
Occupational Therapy for Children Module 5: NICU, School-based OT, Vision/Hearing
The edition focuses on children from infancy to adolescence and gives comprehensive coverage of both conditions and treatment techniques in all settings. The course provides new research and theories, new techniques, and current trends to keep therapists in step with the changes in pediatric Occupational Therapy practice.
Innovative Interventions to Treat Children on the Autism Spectrum
This course addresses the recent changes in diagnostic criteria of autism spectrum disorders (ASD) and the evaluation tools that rehab professionals and other professionals may use to assess needs in areas of executive function, sensory, motor, behavioral, visual, social-emotional and communication skills and performance of daily living activities.
New Ways to Communicate with Your Young Client
This course guides the clinician on ways to increase understanding of children's negative feelings and provides valuable tools to help accept, manage, and empathize with children's negative feelings in a therapy setting.
Sensory Impairments across the Lifespan
This course improves therapists' ability to provide optimum care for patients, both young and old, who suffer from varying degrees of sensory disorders. Therapists are shown how individuals process sensory information and how these concepts can be integrated into a plan of care. Developing a better understanding of these disorders allows the therapist to design effective care plans, treatments, and goals that address patients' needs within the boundaries of their specific capacities.
Solutions for Sensory Processing Disorders
Therapists are led on an exploration of the sensory needs of children, from infancy to adolescence. They are shown how diverse environments play a role in sensory needs and behavior of children and be instructed on Sensory Integration principles, with a focus on discovering methods to encourage engagement in occupations and support patients and their families.
Stress Management During Turbulent Times: Understanding, Treating and Managing Stress
Stress is a part of life we all experience. We encounter stress in our daily life that for the most part we learn to manage. However, unacknowledged and unrecognized stress can negatively affect us. Stress education can reduce this effect. This workshop is intended to provide you with information you can use to prevent deteriorating health and work performance that may lead to developing burnout.
About HomeCEUConnection.com
HomeCEUConnection.com is a leader in providing quality online continuing education courses for Occupational Therapists, Occupational Therapist Assistants, Speech-Language Pathologists, Physical Therapists, Physical Therapist Assistants, Athletic Trainers, Massage Therapists, and Certified Strength andConditioning Specialists. We offer convenient, affordable and user-friendly courses that can be found in our growing course catalog.