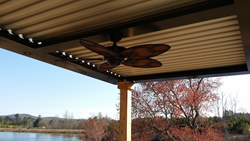 We are so excited to unveil the newly redesigned louver and all the other innovations that come along with it.
Atlanta, GA (PRWEB) April 16, 2014
There's really no better time for the exciting unveiling of the newly redesigned louver and all the other innovations that come along with it. During the Model A6 design process, Arcadia looked at the system inch by inch, searching for areas of improvement. The new system is easier to install and includes some serious upgrades from the previous Model A8.
The new six-inch louver has a sleek contoured design and is able to sit lower on the beam which makes them more resistant to blowing, sideways rain. The new dimensions simplify the measuring process so installing the new breeze-blocking patio cover is a breeze itself! Knowing that one foot is equal to two six-inch louvers is much easier than trying to figure out how many 8" louvers will fit a given frame. With a smaller louver comes a new pivot system, allowing it to cover extra-large patio zones with a single roof and a single pivot bar. No more splicing and butting shorter bars together. The pivot bar screws are now hidden as well, finishing the system with a nice, clean look. Thanks to these innovations and a track bar improvement, the Model A6 is stronger and more durable than any of its predecessors.
What really counts in an adjustable patio cover redesign, however, are changes that increase adjustability. The Arcadia engineers have made part of the motor device (the motor track arm, to be exact) quite a bit simpler. This new upgrade allows the motor, the driving force for louver adjustments, to move in and out with a smoother motion. It also helps the motor pull the system more tightly closed for an uninterrupted roof that provides even better protection from sunlight, wind and rain.
All in all, the Model A6 improvements not only simplify and speed up installation. They hide bits of hardware, creating a much cleaner look. Of course, Arcadia didn't change everything when designing the Model A6. It still offers superior weather protection, unbeatable adjustability, classic aesthetics and fun opportunities to customize an outdoor space, just like their older products. It's the perfect outdoor living solutions for home patios, pool decks, outdoor dining areas and more! In the past, Arcadia has promised to be constantly striving to have the best product combined with excellent customer service and pricing… and this model surely lives up to the promise.