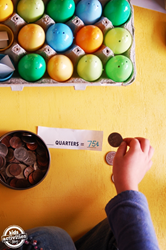 Set up money counting stations with plastic eggs in the house this week.
Dallas, Texas (PRWEB) April 19, 2014
Learning math can be fun. A creative money math worksheet and a gallery of fun activities for 2 year olds have been released on Kids Activities Blog. Egg money counting stations are the latest buzz on Kids Activities Blog this week.
Setting up learning stations in the house makes learning more real, less theoretical. One Moms idea to use plastic Easter eggs to work in a few extra math lessons has become a hit on Kids Activities Blog.
Follow the instructions to set up various work stations. Materials needed are money, plastic eggs, and the math printable on Kids Activities Blog. One station is for basic addition problems. Another station is for grouping coins, and yet another one is for combining coins.
Print out the fun math worksheet and cut into strips. Then, let the kids have a blast solving the problems by filling the eggs with the correct combination of coins.
The handpicked activities are simple to do with items found around the house. The ideas include mess free toddler painting using zip lock bags. Let the kids have a blast squishing the paint bags.
Making letters with play dough and straws is an easy activity that sneaks in a bit of learning, too. DIY cool whip painting, an easy to make tube wall, and yoghurt cup wind chimes are only a few of the ingenious ideas.
For detailed instructions and to get additional fun ideas, check out Kids Activities Blog this week. Come get inspired to do meaningful activities together with the kids that sneak in a bit of learning.
About Kids Activities Blog
Kids Activities Blog is a website created by two moms (who collectively have 9 children), Rachel Miller and Holly Homer from June Cleaver Nirvana. It is their daily goal to inspire parents and teachers to play with kids. This interactive website publishes simple things to do with kids twice a day. Kids Activities Blog is a great tool for moms and teachers to find kid-friendly activities that create memories and sneak learning into the fun.