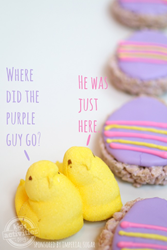 The rice treats are fun to make and look awesome.
Dallas, Texas (PRWEB) April 17, 2014
Ready for easy to do and awesome looking treats? Crispy rice Easter treats and no candy Easter egg stuffers have been published on Kids Activities Blog. The treats are easy to do, look awesome, and kids will have a blast decorating the treats.
Making Easter egg treats is easy with the simple recipe on Kids Activities Blog. The rice treats will mimic the traditional Easter egg candy colors of the yellow chicks and pink bunnies.
Ingredients to make the awesome looking treats are 9 marshmallow chicks or bunnies, one table spoon of melted butter, and one cup of crispy rice cereal.
Simply melt the marshmallow animals according to the instructions provided on Kids Activities Blog. Add the butter and stir until smooth. Then, add the rice cereal. Spread the mixture evenly onto a wax paper sheet.
Once the mixture is cool, use a cookie cutter to cut out the shapes. Follow the directions to make royal icing, either with or without the egg white. Beat the mixture for about 9 minutes then have a blast decorating the cookies.
Time to make memories without the crush that follows a sugar rush. Things that make kids both move and smile when opening their Easter egg is the latest buzz on Kids Activities Blog.
Consider filling the Easter egg with silly activities. Kids will love to make each other laugh at the Easter egg hunt. Materials needed are the printable published on Kids Activities Blog, a pair of scissors, and about a dozen Easter eggs. Cut the activity ideas into strips and stuff them inside the eggs.
The silly activities include pinch the nose and sing, laugh as loud as possible, make silly faces and slither as a snake. Another great idea is using camouflage eggs this Easter. They are harder to spot and make for a great Easter egg hunt with older kids.
For detailed instructions and to get additional fun ideas, check out Kids Activities Blog this week. Come get inspired to have fun at Easter with these great tips from seasoned Moms.
About Kids Activities Blog
Kids Activities Blog is a website created by two moms (who collectively have 9 children), Rachel Miller and Holly Homer from June Cleaver Nirvana. It is their daily goal to inspire parents and teachers to play with kids. This interactive website publishes simple things to do with kids twice a day. Kids Activities Blog is a great tool for moms and teachers to find kid-friendly activities that create memories and sneak learning into the fun.