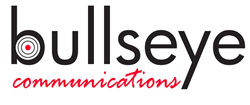 We approach clients with a full vision of their needs and consistently create 'news' that resonates with our extensive media relationships.
Washington, D.C. (PRWEB) April 15, 2014
Washington, D.C.-based Bullseye Communications has been recognized as one of the top growing PR firms in the Marketing Communications industry. Boasting an impressive roster of clientele in the entertainment, media, travel and television arenas, their award-winning track record of strong strategic planning and impressive top tier media hits is gaining traction and attention with various stakeholders.
Led by entertainment executive Karen Hansen, the Bullseye team works with a variety of companies, celebrities and talent to raise their profile in the national media landscape and ultimately with consumers. Clients include media empires, television personalities, prominent sports figures, published authors, e‐commerce companies, and charitable foundations among others.
"Our team has diverse experience on the journalism, corporate and agency side," said Karen Hansen, President of Bullseye Communications. "Because of our background, we are able to approach clients with a full vision of their needs, yet focus in on our specialized skill of consistently creating 'news' that resonates with our extensive media relationships."
With her corporate background at Travel Channel, Disney, World Wrestling Entertainment, Discovery Communications, Scripps Networks, PBS and Smithsonian Publications, Hansen is a professional at creating and implementing media campaigns, promotions and partnerships that drive the business. Through integrated communications strategies that secure high-level media coverage and enhance the brand image, she is crediting with powering business growth and opportunities. The client feedback represents a notable range of companies from New York to Los Angeles to Paris to London and beyond.
Respected by her peers, Hansen has been interviewed by several entrepreneur-focused publications sharing advice, experience and encouragement with her colleagues. With a synthesis of brand management, consumer media relations and industry visibility, she believes public relations is the cornerstone for company success.
About Bullseye Communications
Bullseye Communications is a full service Public Relations agency offering traditional and digital media relations, talent relations, event management, press material creation, media junkets, media training and messaging and social media management. The company is rooted in the philosophy of serving a direct extension of internal teams and a true partner on priorities. The team has representation across the industry in organizations such as Entertainment Publicist Professional Society (EPPS), Association of Cable Communicators (ACC), Public Relations Society of America (PRSA), National Academy of Television Arts & Sciences (NATAS), and Women in Cable and Telecommunications, Inc. (WICT). More about Bullseye Communications online.