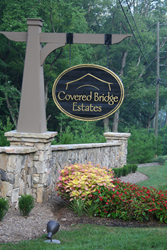 'The craftsman style cabin boasts over 2,000 sq. ft. offering luxury amenities at an affordable price,' stated Tom Jackson, President of Jackson & Associates General Contractors, Inc.
Ellijay, Georgia (PRWEB) April 15, 2014
Covered Bridge Estates is a lovely gated community located at the base of the Appalachian Mountains just minutes away from Carters Lake and downtown Ellijay.
The community provides the area with a beautifully landscaped environment while allowing the residents privacy with it handsomely appointed gated entrance, this combined with the well sought after maintained roadways and ease of travel and you have your perfect mountain home.
Covered Bridge Estates' developer Ellijay Associates is in the process of completing its newest model, an inventive Craftsman style cabin boasting an air of rustic charm situated on a 2.17 acre size lot. "The craftsman style cabin boasts over 2,000 sq. ft. offering luxury amenities at an affordable price thus making it exceptionally attractive to those seeking a vacation home or as a full time resident relating to the area" stated Tom Jackson, President of Jackson & Associates General Contractors, Inc. and construction manager for Cover Bridge Estates.
The lifestyle within the community lends way to a relaxing clean-air atmosphere surrounded by a visual backdrop of hemlocks and pines. The premier location of the development offers the home buyer plenty of recreational opportunities all located minutes away. The local area offers boating , hiking, camping, biking, tubing or just exploring the beautiful mountains you won't have to travel too far from home to find it. The new Gilmer county private airport is just minutes away as is the town square which always has something happening including live music & festivals. The city of Ellijay offers an abundance of restaurants & bistros, antique stores, boutiques and proudly hosts the annual "Apple Festival" which takes place in October.
"In your leisure time you can also visit one of the local apple houses, Cartacay Vineyards, Amicalola falls state park or a multitude of various north Georgia attractions all located within close proximity to the Cover Bridge Estates community", added Mike Kunkle, Project Manager for Covered Bridge Estates.
For planning and investing purposes potential buyers will see the property taxes are very competitive. On a home purchase valued at $300,000 in Gilmer County without the homestead exemption, your annual tax estimate would be about $3000 which is considerably less than the $6000 +/- per year in South Florida. You will also find the cost of living index to be very desirable at 83.1 which is well below the U.S. average. Gilmer County is also proud to boast a very low crime rate and below average poverty.
As every home will vary in size & design, prospective buyers can work with Jackson & Associates General Contractors to design their perfect enclave or they may bring use their own pre-approved Contractor. The home sites range in size from 1 to 3 acres and with the development already inclusive of paved roads, water, phone and electricity the only thing you need to add to the picture is your dream home!
For more information visit the website http://www.estatesatcoveredbridge.com, or call Mike Kunkle 706-889-4488.
About Us
Covered Bridge Estates is a private gated community located one hour north of Atlanta and situated in the foothills of the Appalachian Mountain Range. The developer Ellijay Associates LLC is the original developer of Covered Ridge Estates and is proud of the fact that this development has never had a foreclosure, it is totally owned and debt free. Jackson & Associates General Contractors, Inc. has been successfully building homes for over 20 years and is the lead contractor for the Covered Bridge Estates.